Just try and look at these gorgeous kitchen island ideas and not want to add one to your own kitchen instantly. Stylish and with heaps of added storage and surface space, whatever the style of your kitchen, kitchen island units offer a multi-functional way of using your space.
If you have modern kitchen or a period-style space, we have plenty of beautiful ideas below to get your creative juices flowing. And when you're looking for more kitchen ideas and inspiration be sure to check out our feature.
1. Get the positioning and sizing of your kitchen island right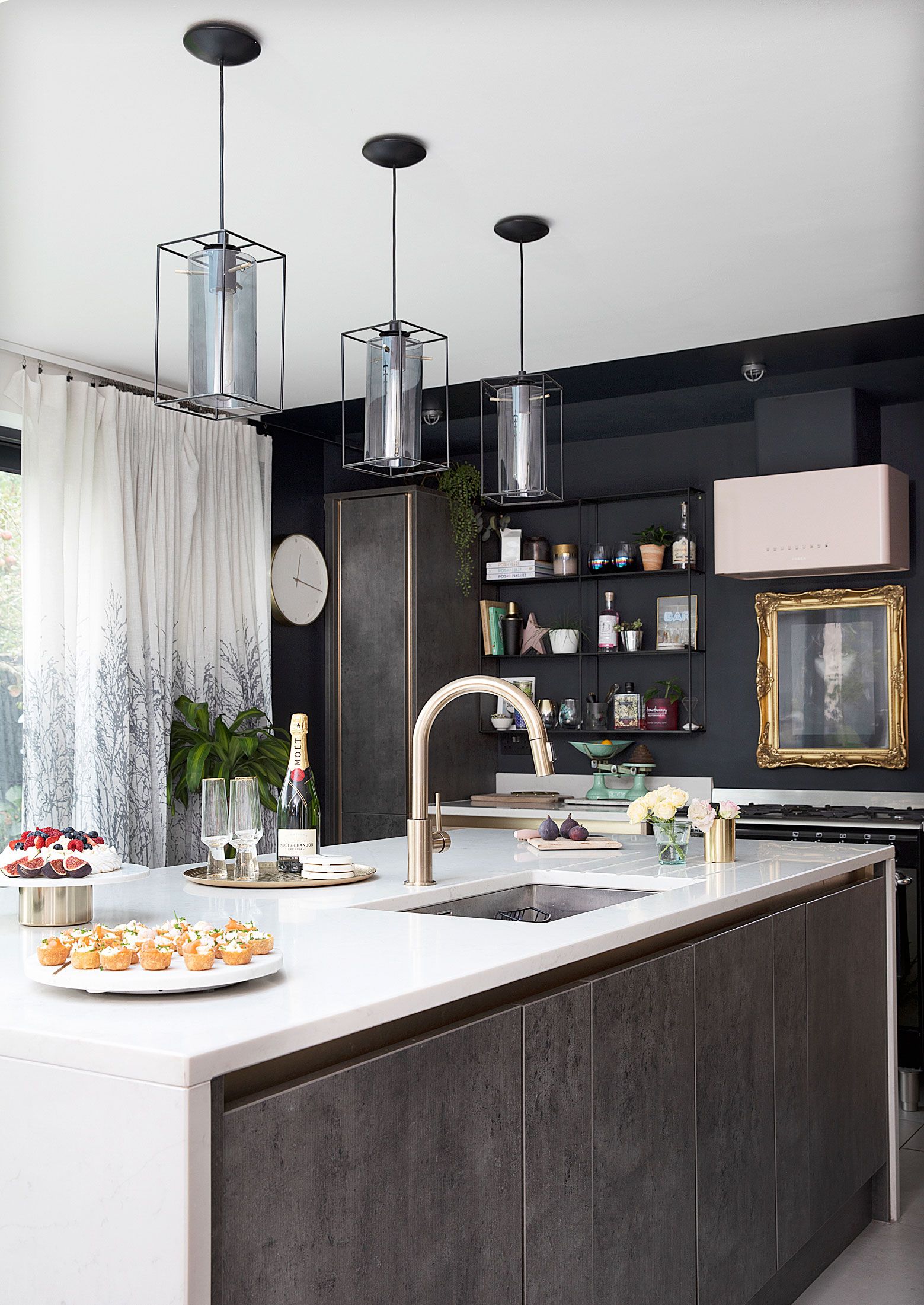 (Image credit: Katie Lee)
The best kitchen islands are carefully positioned to aid easy travel around the kitchen – aim for at least a 90cm to 110cm wide walkway in high traffic areas around the fridge and sink. And don't forget to allow space for dishwasher doors and extending drawers. Incorporating a sink and/or hob helps to centralize food preparation, bringing the chef into the action. Be unashamedly bold with your kitchen island lighting to ensure it takes center-stage.
2. Use a kitchen island to create a rustic look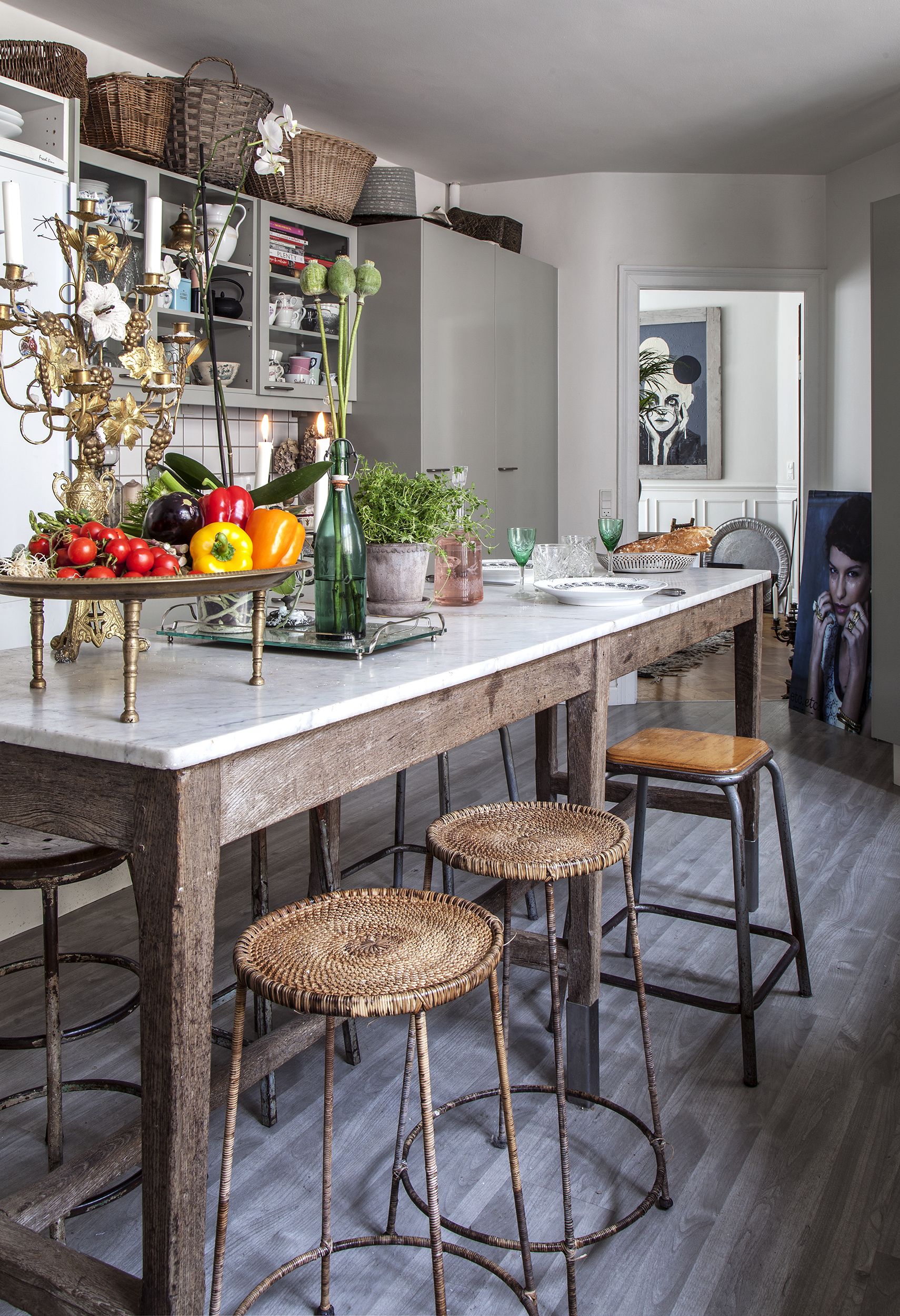 (Image credit: Iben and Niels Ahlberg/inagency.dk)
If you kitchen cabinets have to prioritise function over style, let your island be the focal point and bring in your personality to the space, We love the rustic look of this island and how it works with the mismatched chairs to bring in an eclectic rustic look. The marble top gives it an edge of luxury too as a nice contrast. 
3. Create a floating island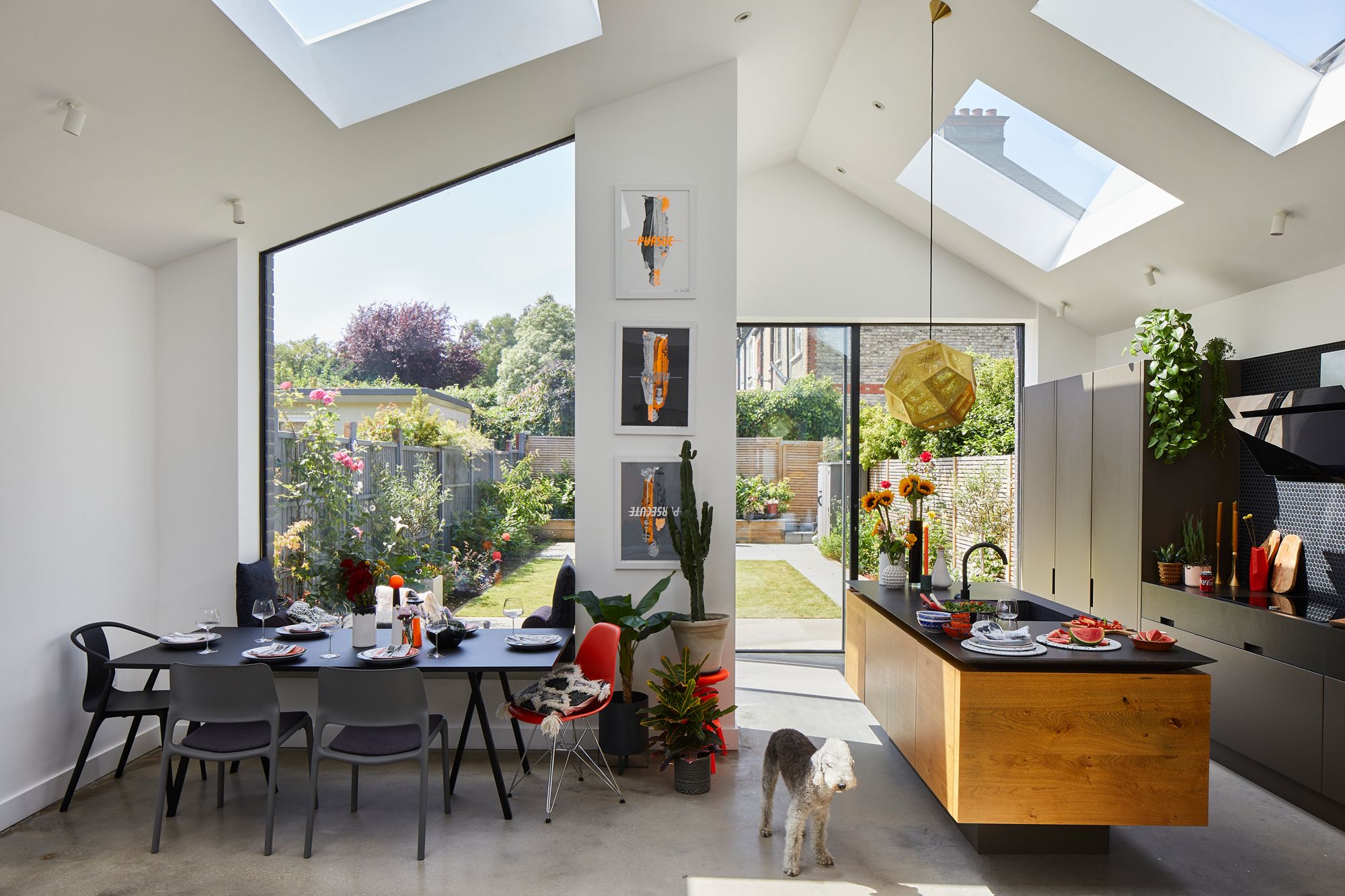 (Image credit: Chris Snook © Future)
This kitchen island is so striking we were almost distracted from the adorable dog! It looks like it's floating but it's actually standing on a pedestal that's much smaller and sits underneath the island. It stops the island feeling too heavy and blocking light in the narrow space of the kitchen. If you love this kitchen be sure to check out the great of this gorgeous modern kitchen extension. 
4. Use something unexpected as a kitchen island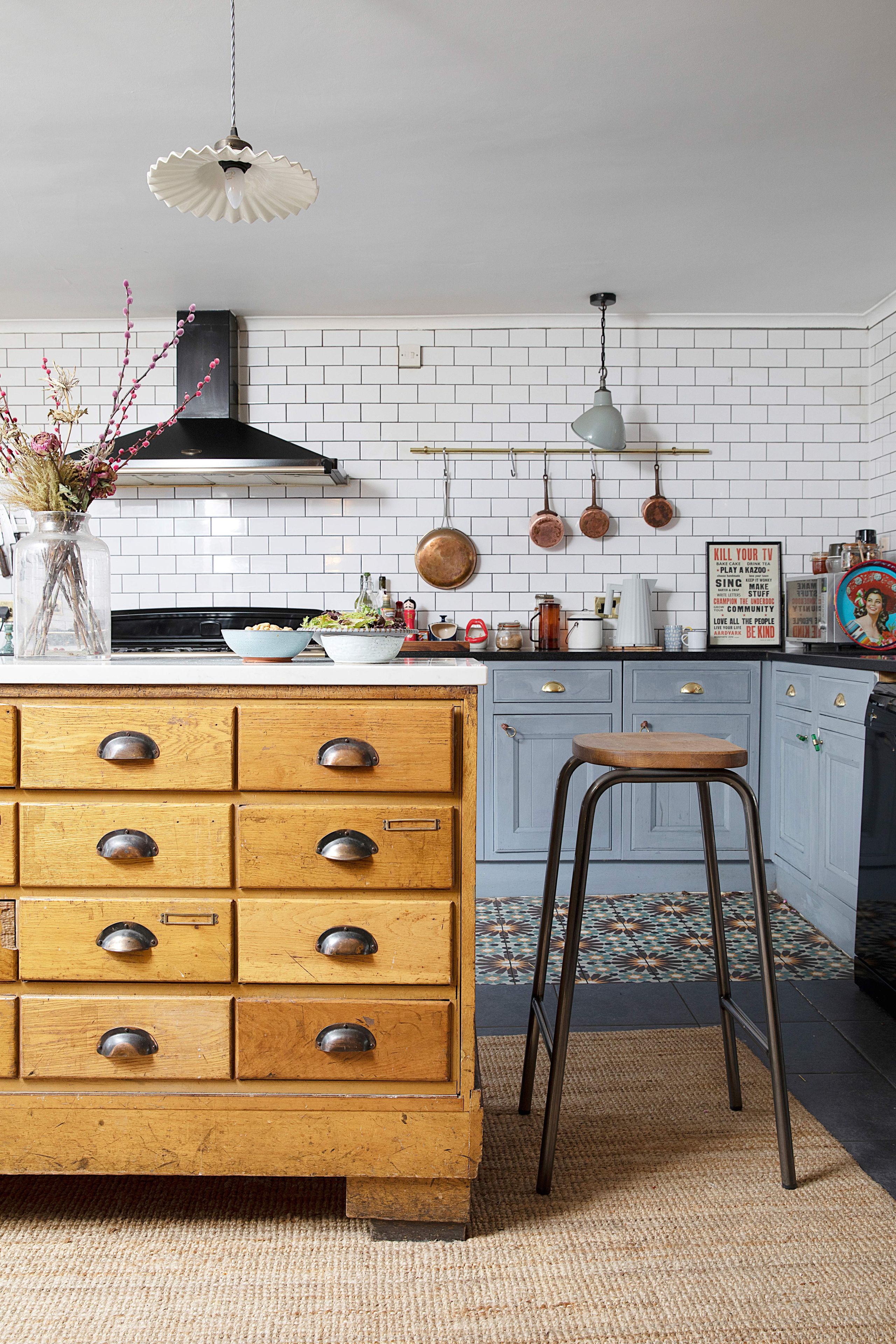 (Image credit: Katie Lee)
A kitchen island doesn't have to be labelled as a kitchen island if find the perfect table, butcher's block or piece of storage while trawling the antique shops see if they would sit well in the middle of your kitchen. 
5. Incorporate some stylish log storage
It's niche, but if you have a wood burner, you'll know the task of having to find space to keep copious amounts of logs. You kitchen island could actually be the unexpected place you need – plus is looks so cool and adds a load of texture that we would be tempted to do this even if we didn't have a fire. 
6. Panel your kitchen island 
Another easy way to contrast textures in your kitchen is to panel your kitchen island. You could keep it subtle like this one and go for a grooved design, or you could DIY the look with wooden planks for a more rustic look. 
7. Build in cubby holes for cookbooks and decor
When designing your kitchen island always try and include a mix of different types of storage – drawers, cabinets and open storage like this cubby holes. They are great for storing cookbooks and ingredients  you like to always have on hand.
8. Find a home for houseplants too
And look how cute they look with some houseplants added in too! A really easy way to add some decor to your kitchen. Also another idea to take from this kitchen – arrange the decor on your island on a tray so you can easily move it around the space should you need the surface for prep.
9. Wallpaper a section of your island
Want a quick update for your kitchen island? Wallpaper! You can wallpaper sections to add pattern or copy this idea and pick a really realistic brick effect wallpaper, ooooh, or a paneling wallpaper would look amazing too. 
10. Scrap your cabinets for an island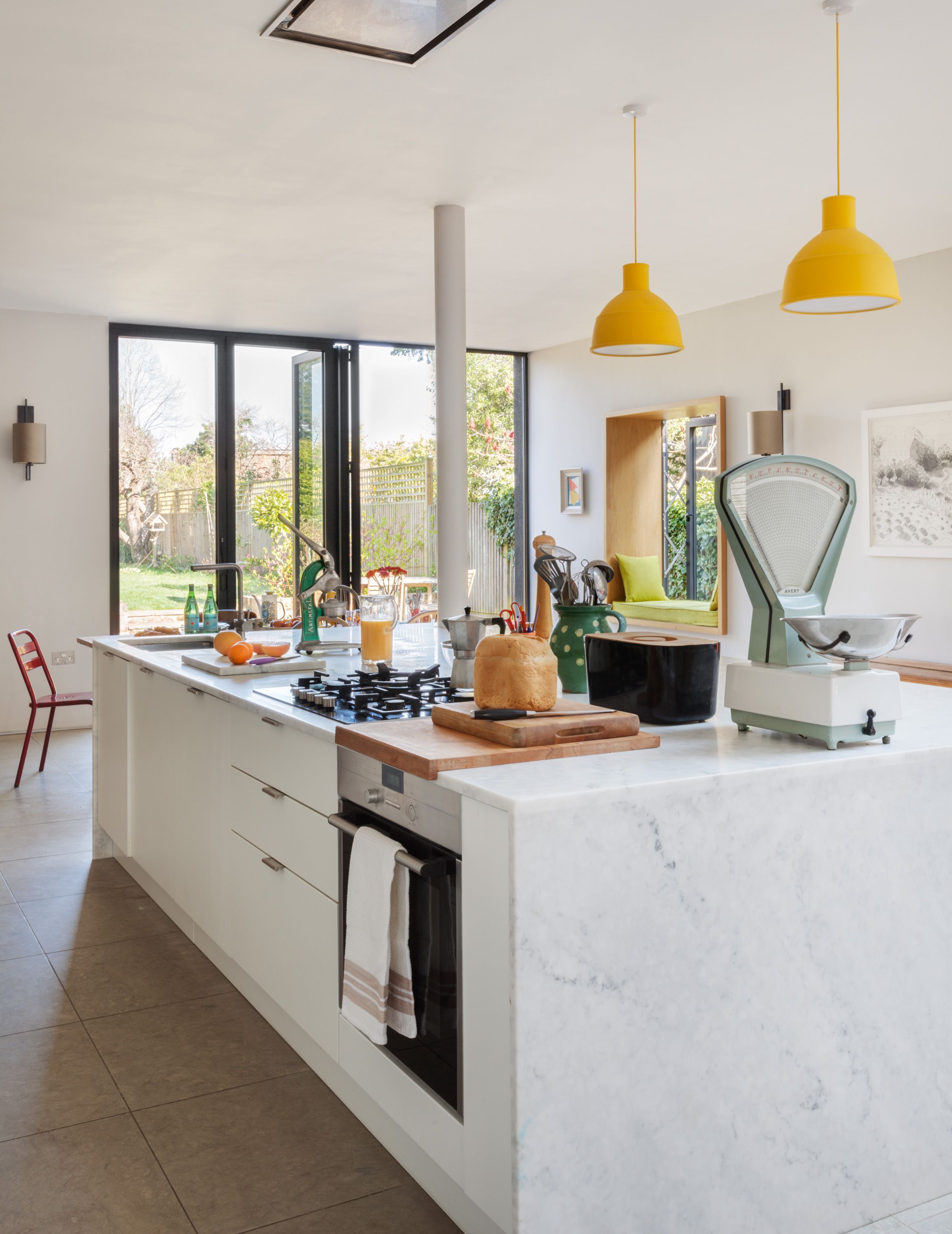 (Image credit: Bruce Hemming)
This can work so well in an open plan kitchen and if you are tight on space – scrap your wall and floor cabinets and just go with an  kitchen island. They are big enough,  you can fit in all your appliances plus storage and create a really open, social space. You can always add a dresser if you need extra storage space. 
11. Go for a classic country look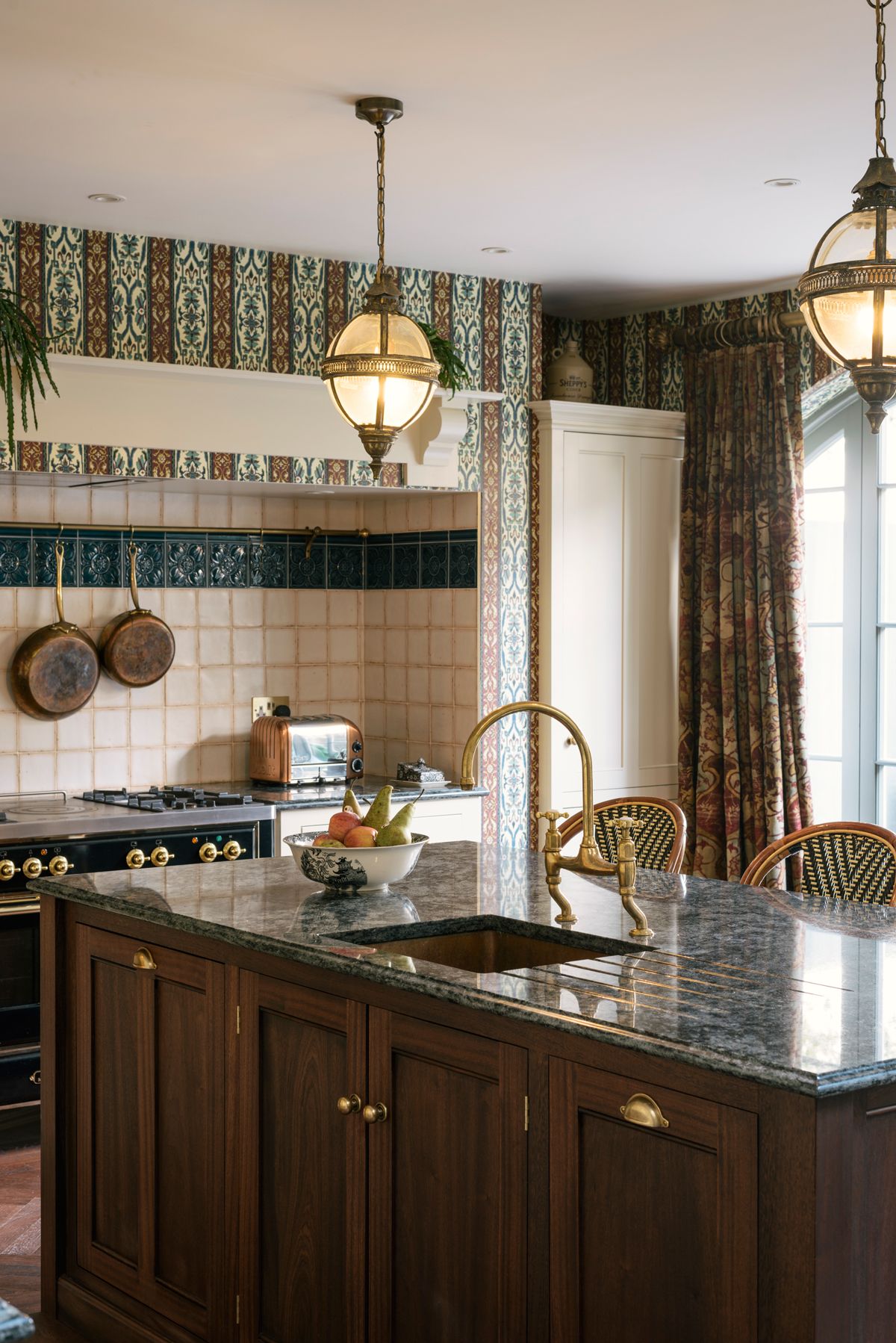 (Image credit: deVOL)
How dreamy is this  deVOL kitchen? It belongs to the founders of House of Hackney, who's style we are already obsessed with. We look the  really distinctive, classic style of this island – the dark wood and grey quartz aren't a combo you see very often anymore and the result is almost retro. 
12. Warm up a cool kitchen with a wooden island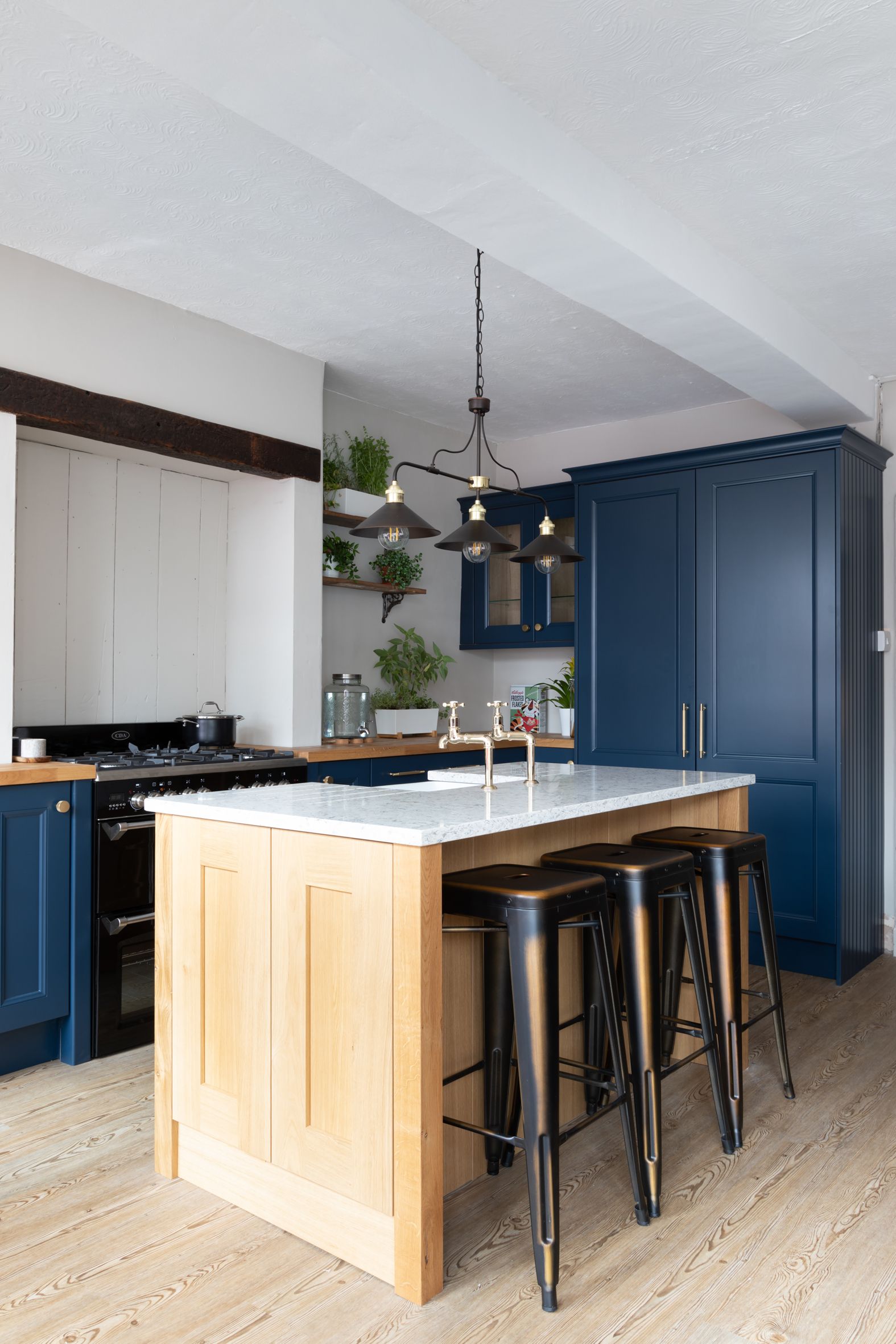 (Image credit: CRL Stone)
Going for a blue kitchen? Or a cool grey? Warm up the space with a contrasting wooden island. Make the look all the more cohesive by picking a wooden worktop to match the wood of the island – then you can pick a more statement worktop for the island like marble or a copper would look cool. 
13. Go for glass doors in your kitchen island unit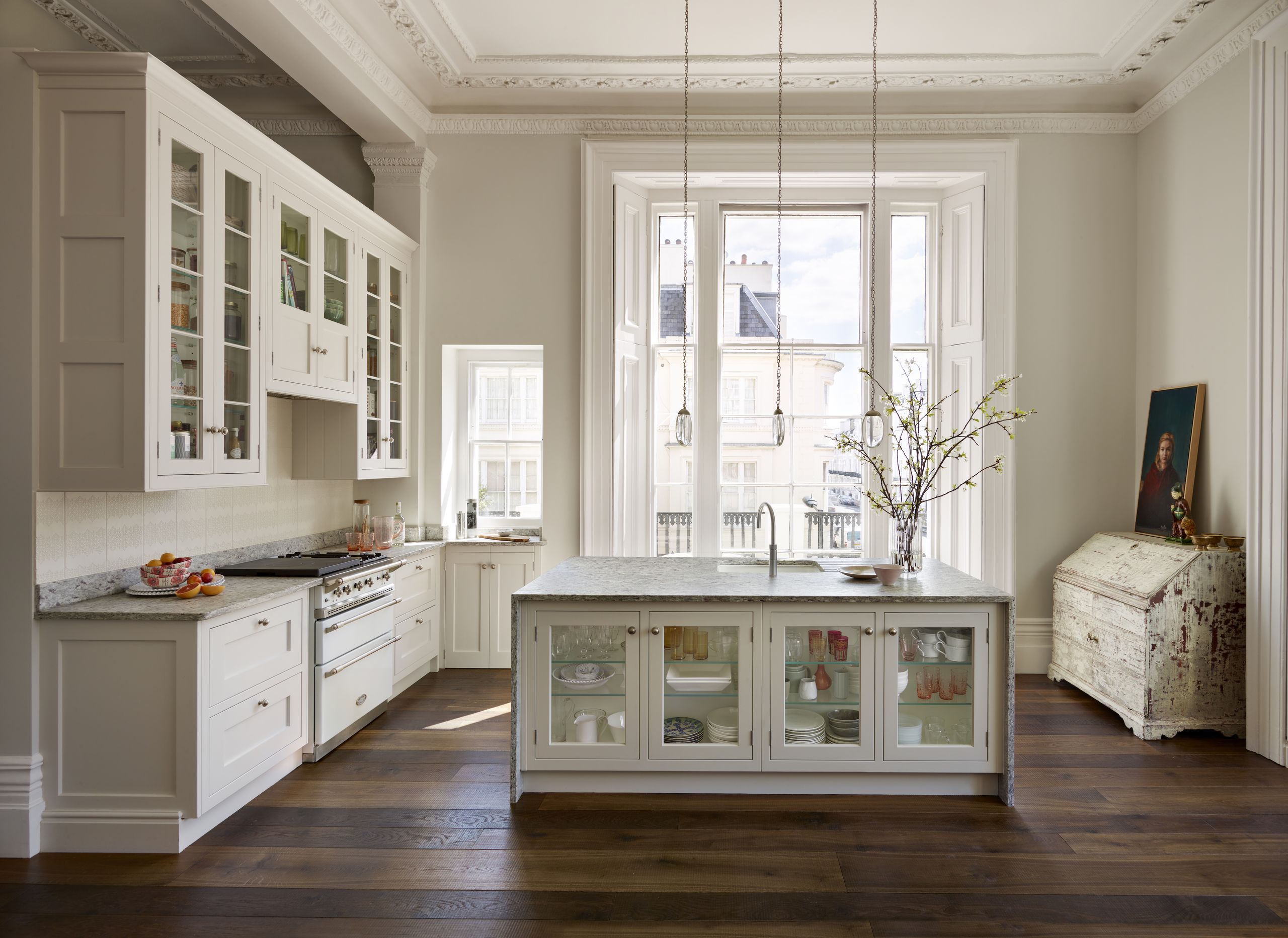 (Image credit: Martin Moore)
Nobody ever complained of too much kitchen storage, but it needn't all be purely practical when it comes to kitchen island ideas. Glass doors provide a pretty dresser-style display feature that's perfect for showing off vintage glassware and treasured ceramics. 
14. Find slim fit kitchen island ideas for narrow rooms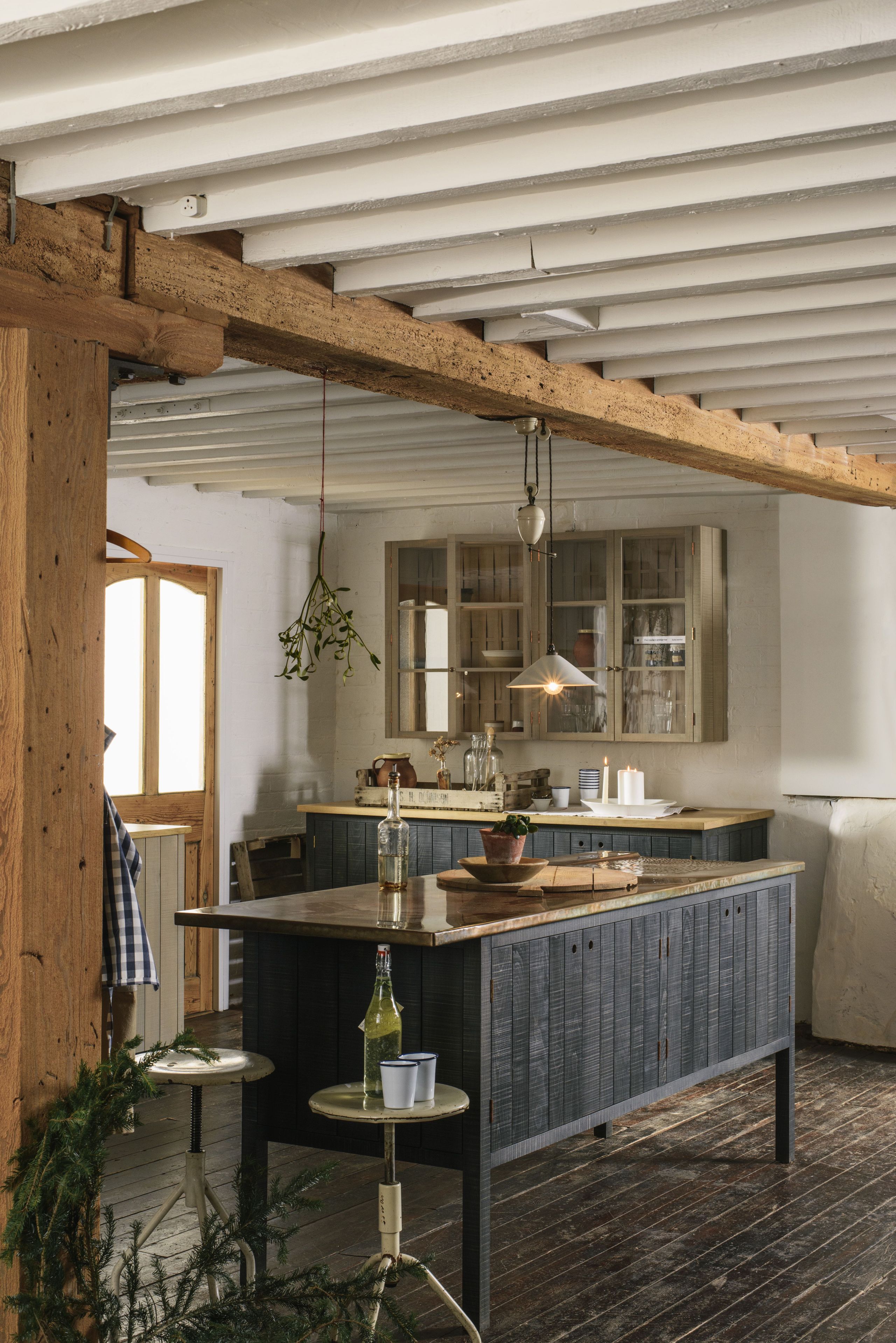 (Image credit: deVOL)
If space is tight, freestanding kitchen furniture, such as a sideboard can be repurposed to add extra prep areas and storage without crowding you out. Do make sure the rear of the cabinet is smartly finished (some have back panels in a cheaper, thinner board). We love the aged copper worktop added to this Sebastian Cox Kitchen sideboard by deVOL, priced from £2,700.
15. Divide the cooking and dining areas with an island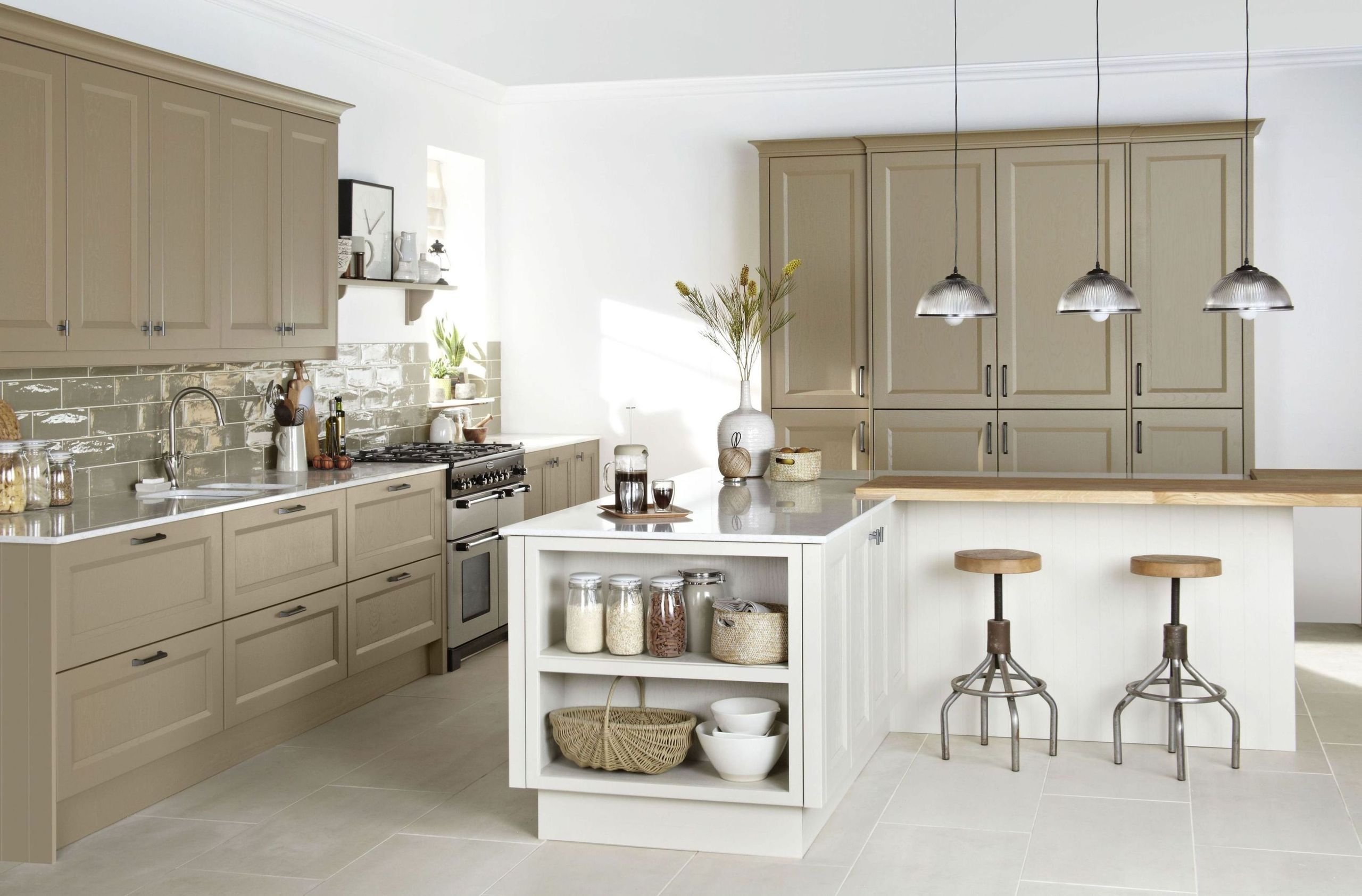 (Image credit: Burbidge)
Looking for kitchen island ideas for a large open-plan kitchens? An L-shape kitchen island is a fantastically flexible way to define the cooking area while adding oodles of worktop. This stylish design features a generous breakfast bar – the perfect spot to park guests and add some island seating while you rustle up supper. 
16. Make your kitchen island a sink station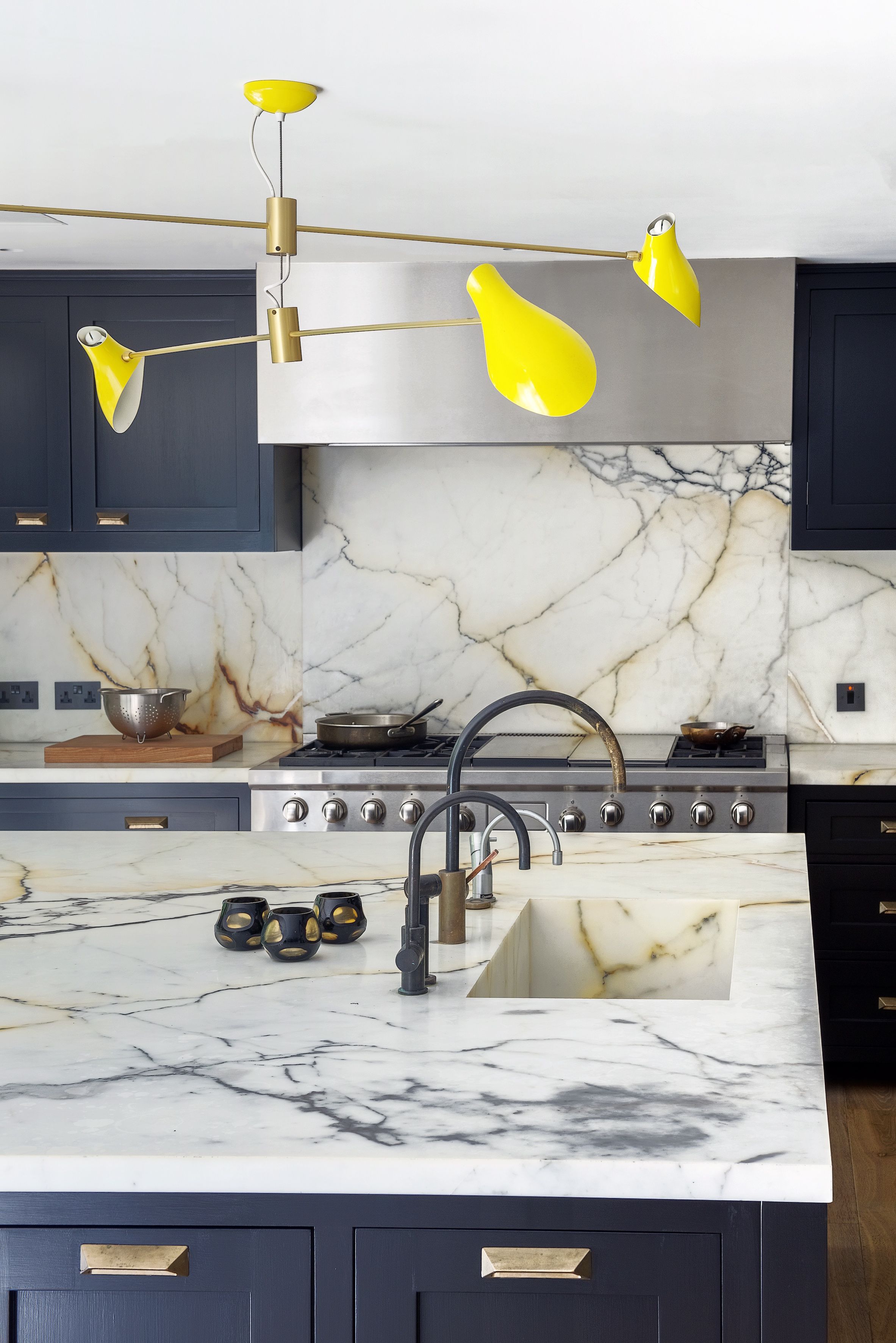 (Image credit: Charlie Kingham)
Installing the sink in your kitchen island is a sociable option that allows you to look out into the room – and possibly garden beyond – while you work. This bespoke under-mounted sink is in the same honed Arabescato marble as the worktop for a sleek, seamless finish. Add a boiling water tap for speedy brews. 
17. Minimise the kitchen island unit's proportions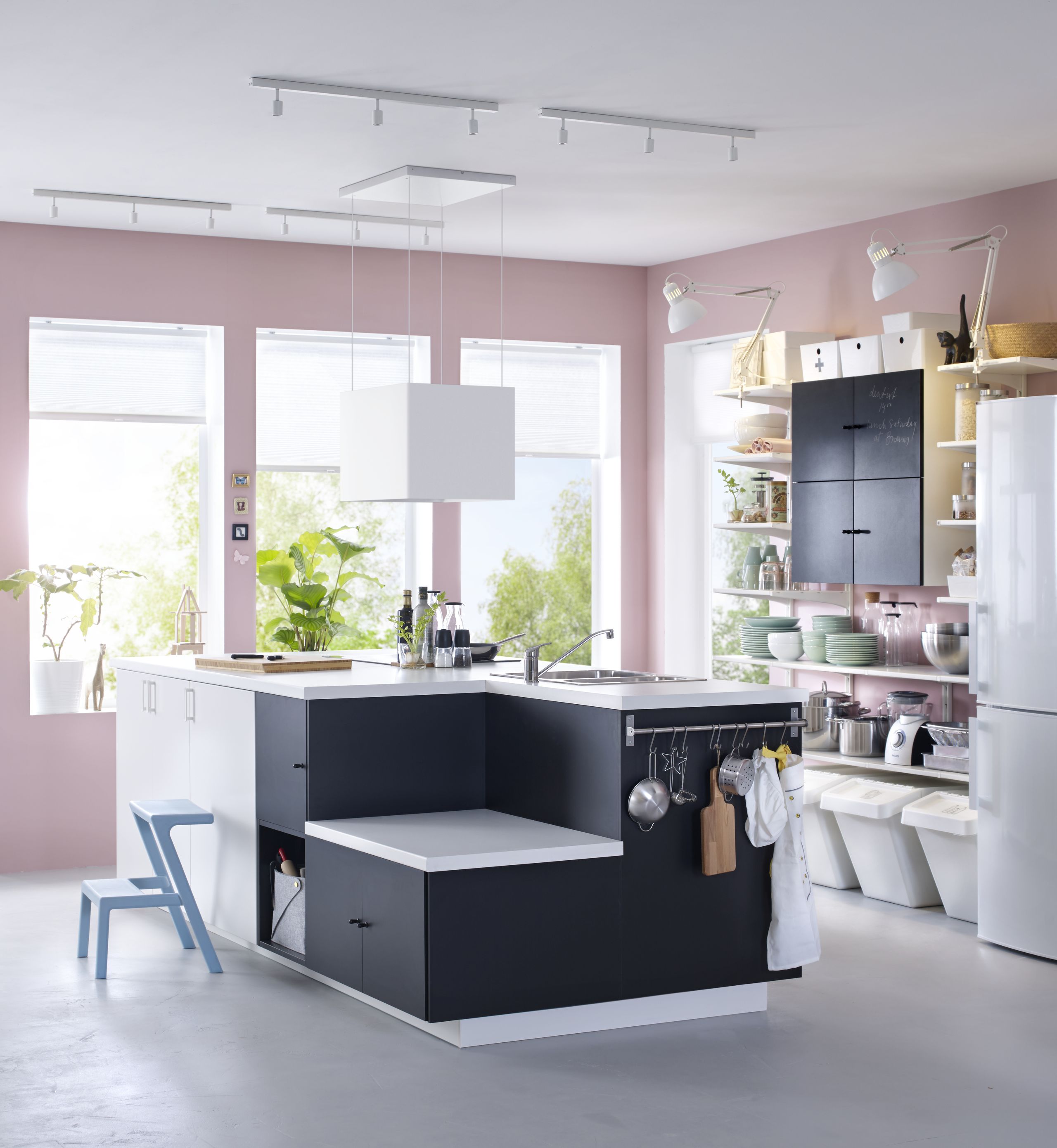 (Image credit: Ikea)
It's tempting to think big when planning a kitchen island but really large designs can prove overpowering. Dropping one corner unit creates a far more dynamic shape that feels less bulky. Pop on a cushion for a snug seating nook. This island features Ikea's Uddevalla blackboard door, from £15; Ringhult door in high gloss white, from £22, and Säljan worktop in white, from £40. 
18. Choose an island with curve appeal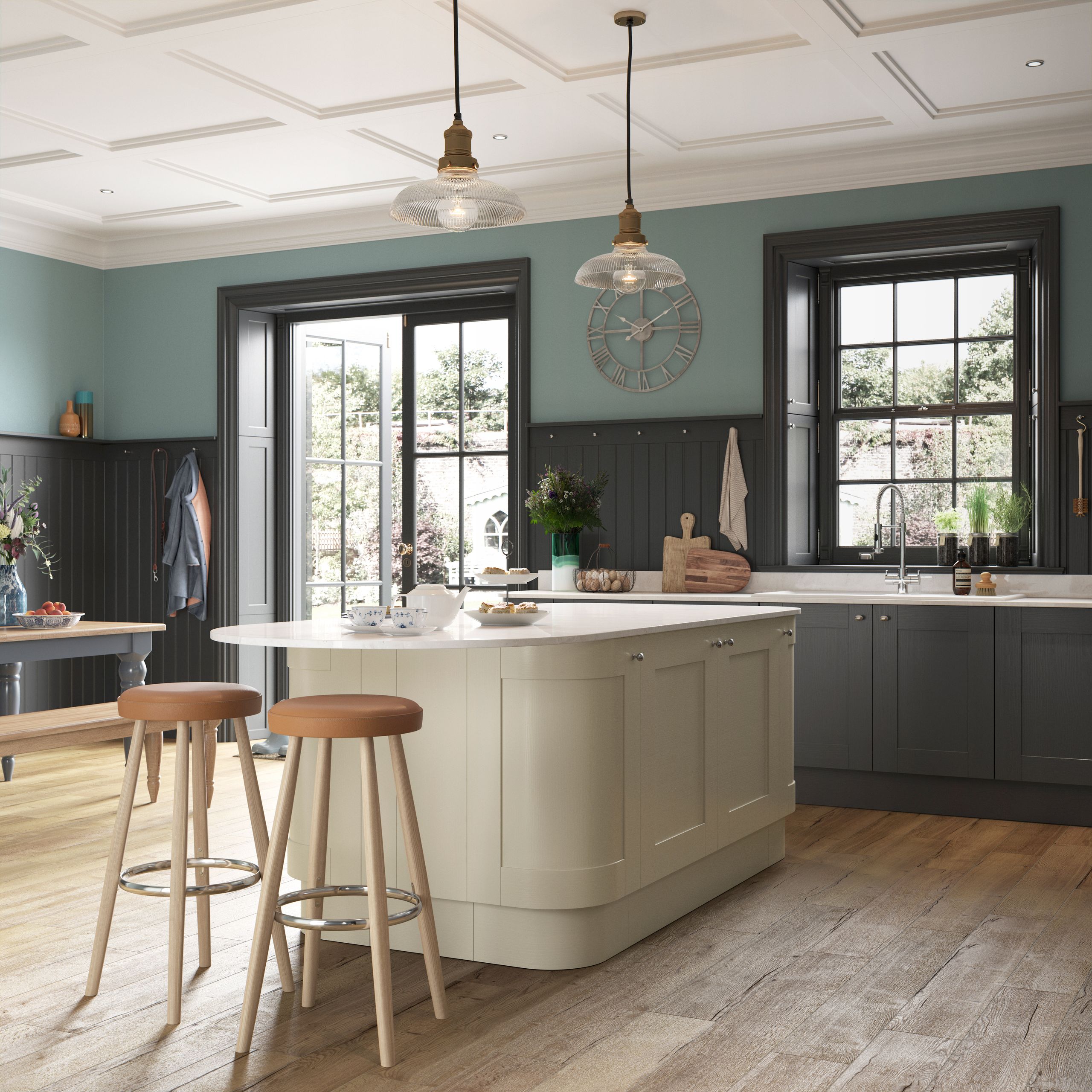 (Image credit: Magnet )
When you're looking for kitchen island ideas, think form, too. Gently curved kitchen cabinetry softens the sharp lines and hard surfaces found in kitchens, can help make small kitchens feel more spacious, and will improve the natural traffic flow around the island. They're far kinder on small children's foreheads, too! 
19. Include bold island lighting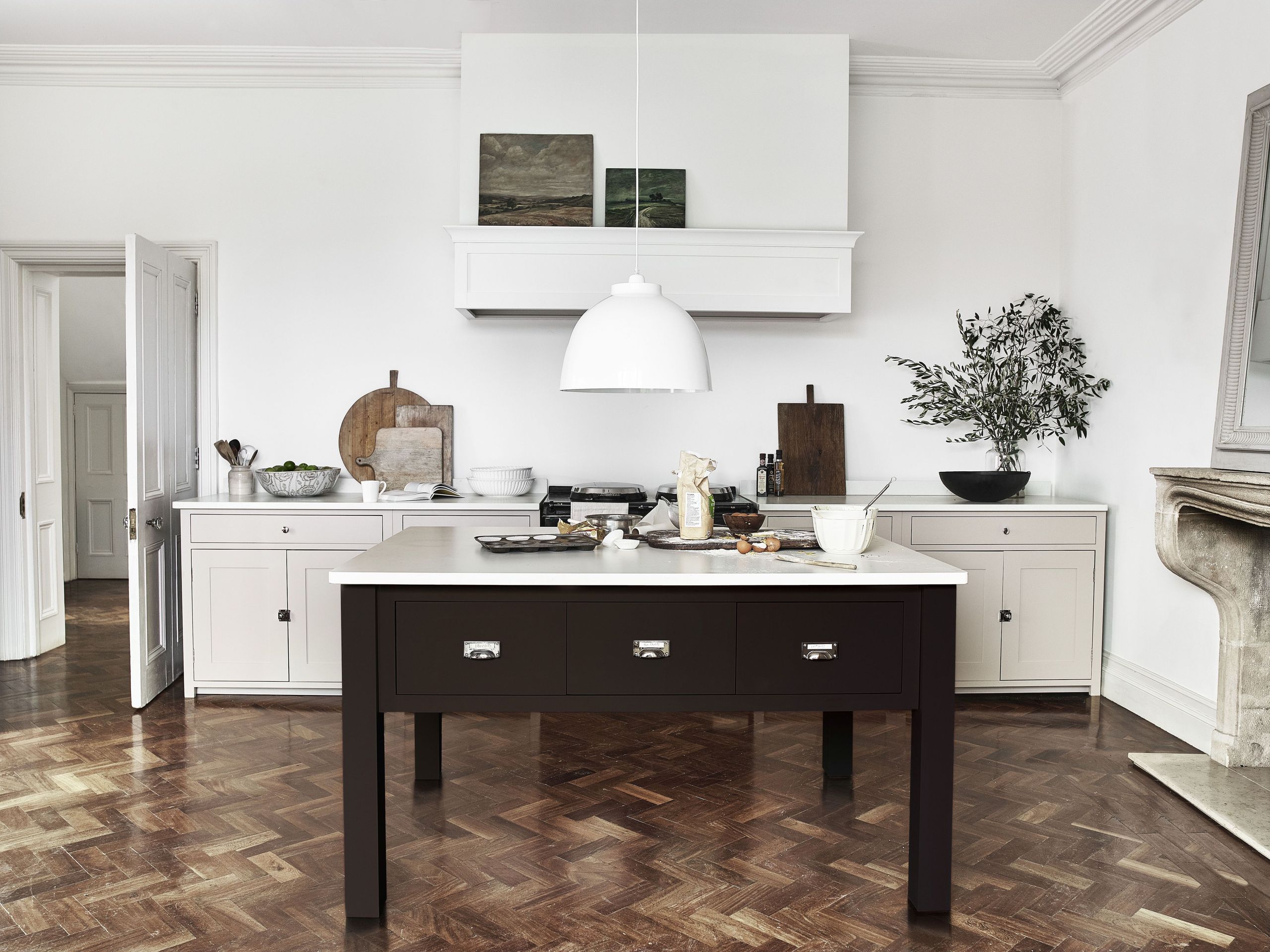 (Image credit: Neptune)
Kitchen island lights can take your kitchen island to the next level. Use dramatic kitchen light fittings to anchor your kitchen island unit and ramp up the wow factor. A line of pendants can be especially effective – odd numbers work best – or go for a single outsized shade, like this Byron Pendant , £50, to really impress. Neptune's Suffolk kitchen starts from £16,000. 
20. Opt for dual worktops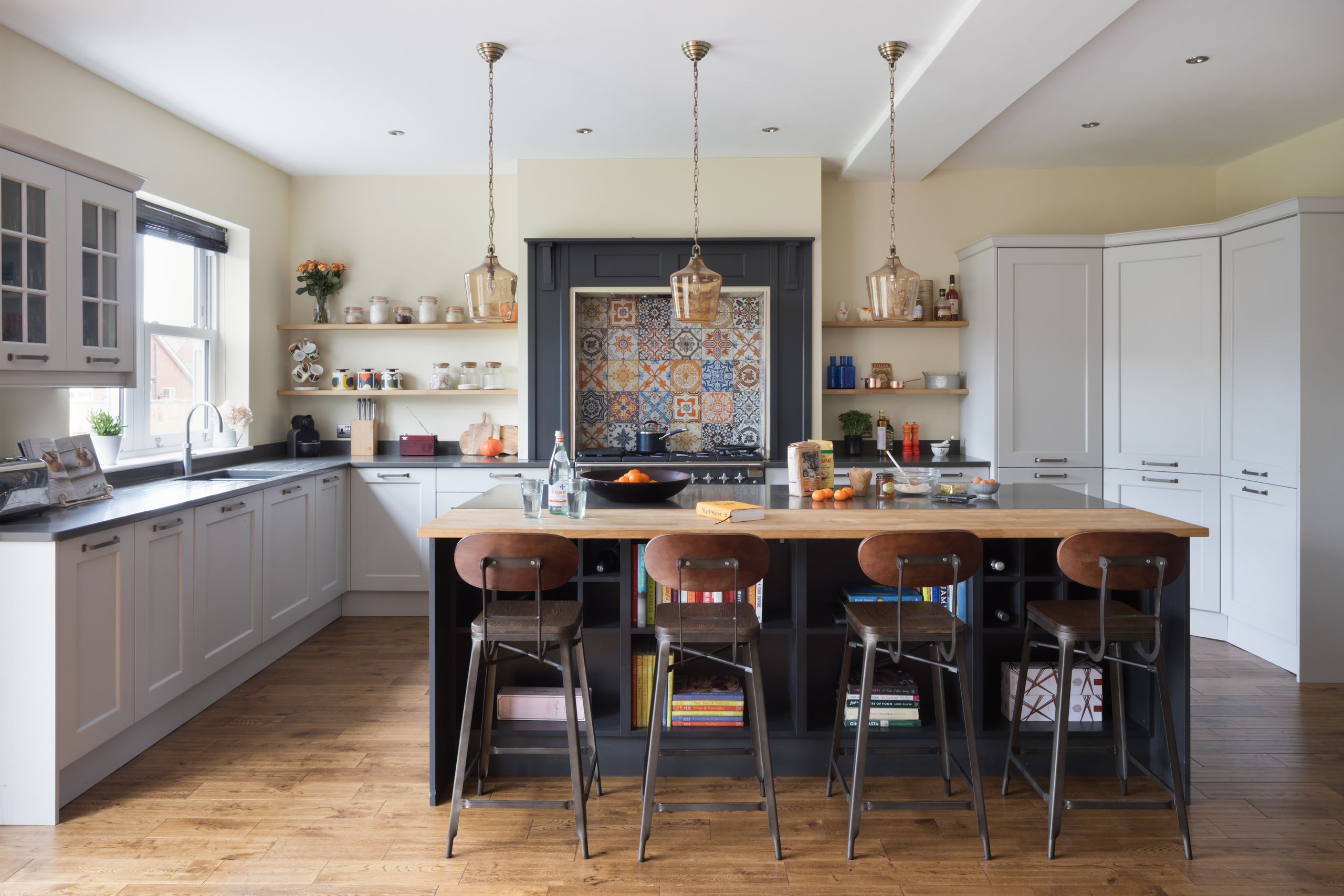 (Image credit: Masterclass Kitchens)
Opting for split surfaces is a simple but incredibly effective way of adding interest to your kitchen island. Here, the breakfast bar is made from solid wood, which is kind on elbows and crockery, while the hardworking prep side is a more durable composite quartz surface. Choose the right kitchen worktops with our guide to kitchen worktop materials.
21. Got a small kitchen? Incorporate a butcher's block instead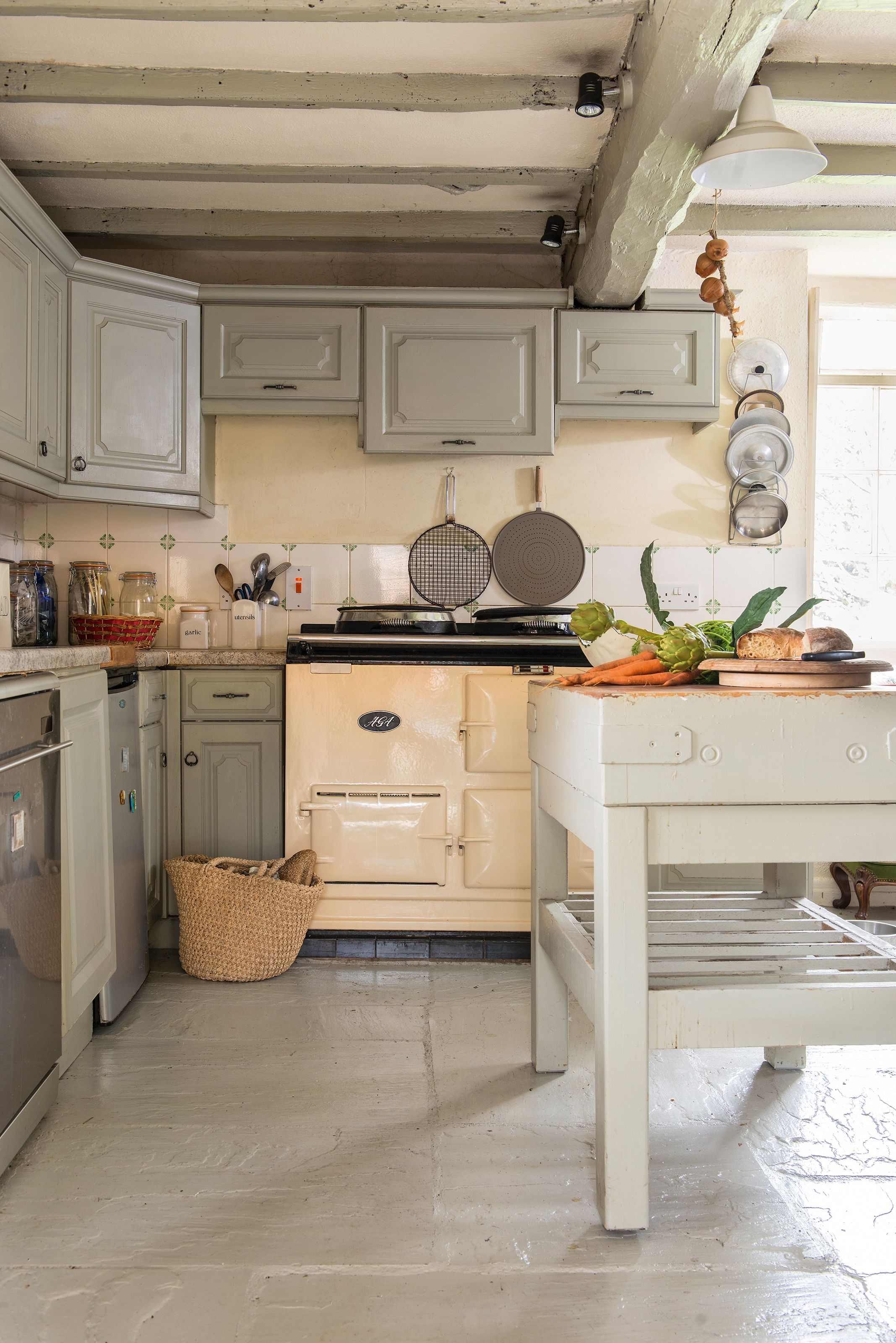 (Image credit: Colin Poole)
Fitting a whole island into a small kitchen design isn't the most realistic plan, but if you love that flexible, freestanding look that an island brings to a space, you can always create a similar effect with a butcher's block. They are much more compact than an island but can still give you extra surface space and extra storage, plus of course, they act as an important focal point in the room, however small. You'll find a few options in our round up of the best kitchen trolleys so go and have a nosey over there. Or you could of course pick up a lovely reclaimed or secondhand one on eBay. Our advice? Keep it color light – that way the room won't feel crowded.
22. Look for mirrored kitchen island ideas to stretch space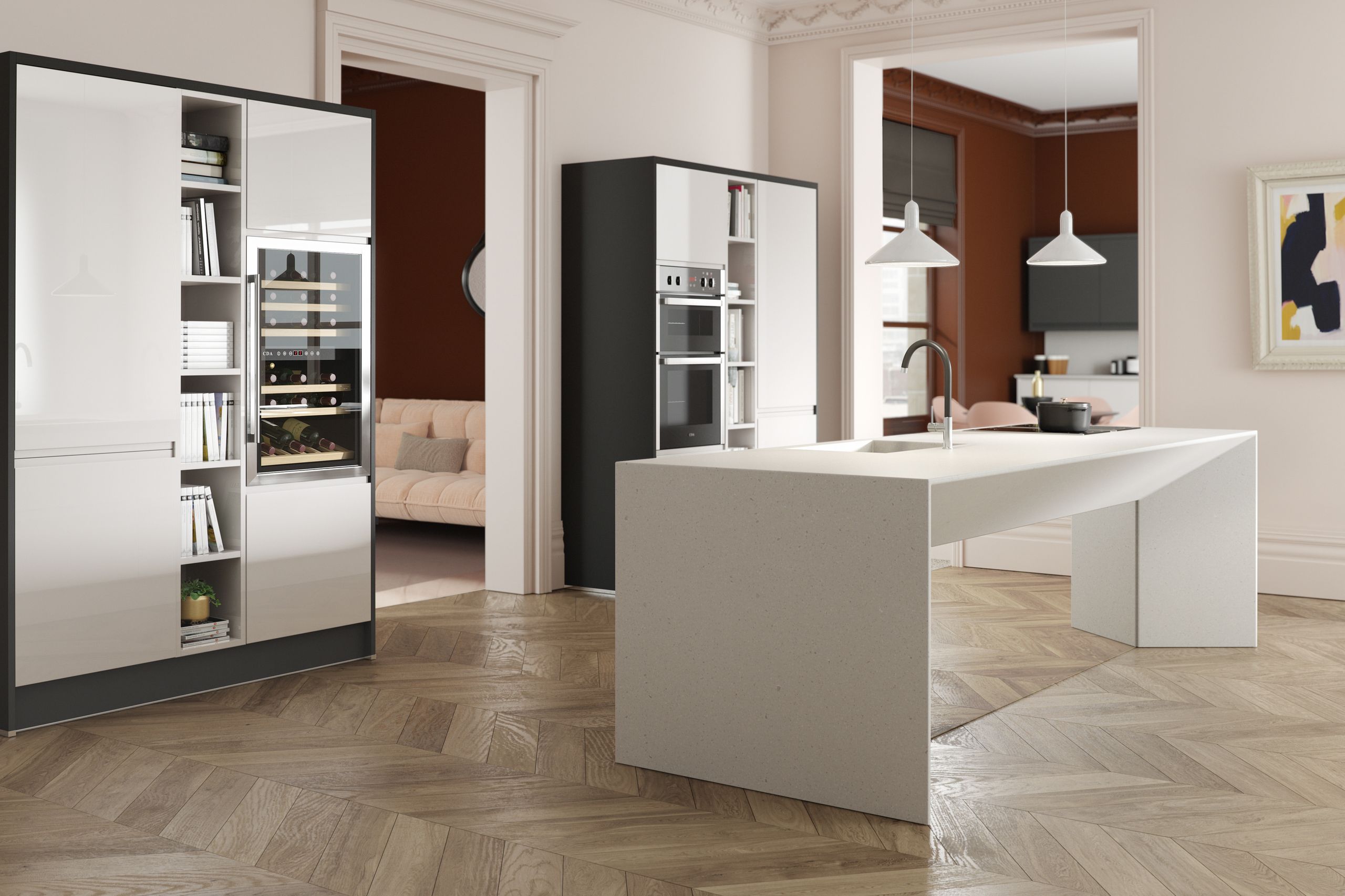 (Image credit: Wren Kitchens)
Keep the kitchen island unit love alive by thinking outside the box in terms of both shape and materials. Wren's Mirage Island, £4,948 as shown, is a compelling combination of geometric quartz and mirrored glass that can't fail to impress.  
23. Give your kitchen island an industrial edge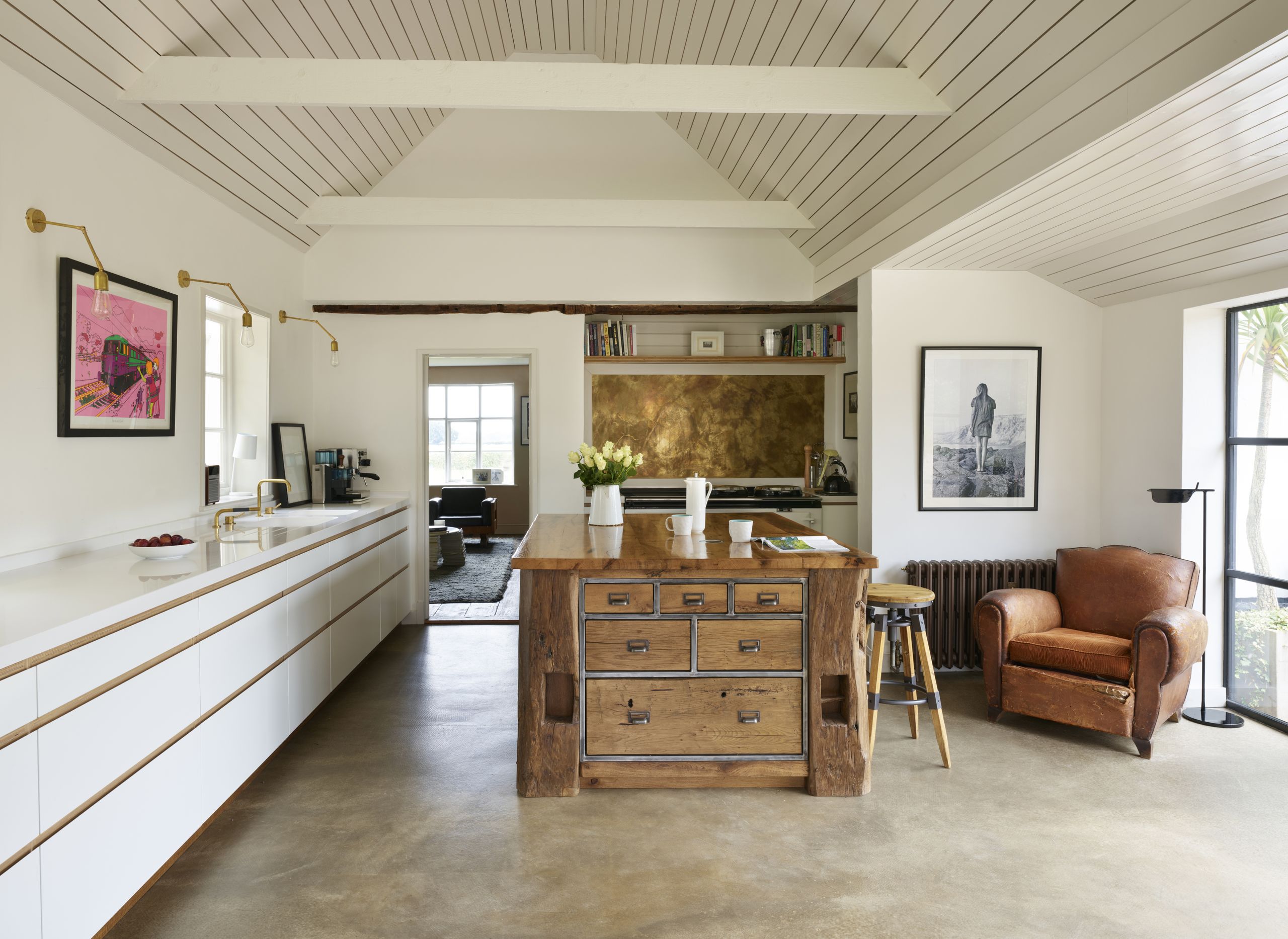 (Image credit: Clayton Cabinets)
Looking for kitchen island ideas that are just a little bit different? Deliberately contrasting old and new can prove extremely arresting, and often a little kinder on the environment, too. This rustic, industrial-style kitchen island unit is made from salvaged oak beams, fused with hand-welded metalwork for an on-trend industrial touch. 
24. Go for a contemporary take on the rustic look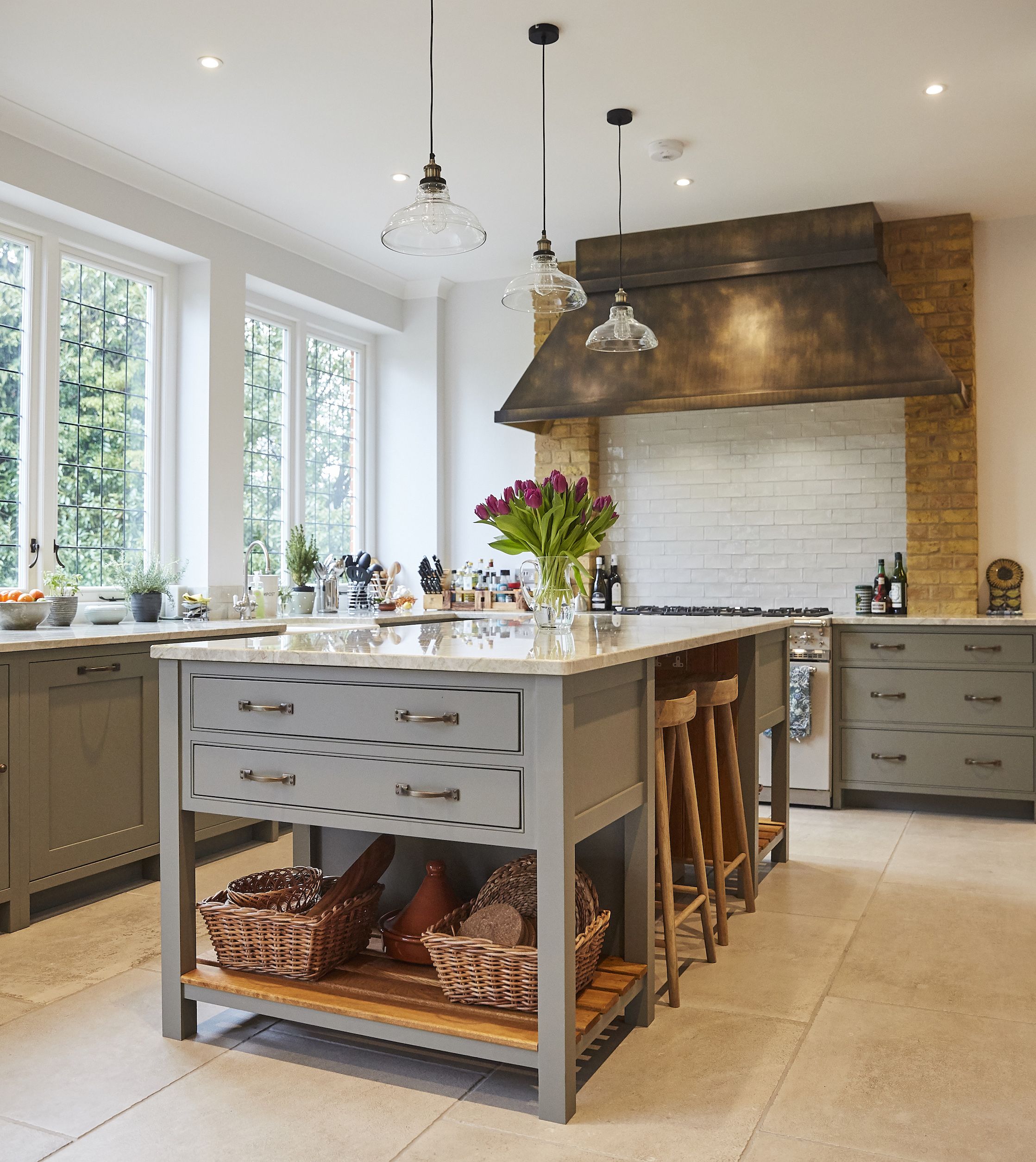 (Image credit: The Main Company)
Get the balance right between contemporary and rustic styles by choosing a freestanding kitchen island idea that combines traditional craftsmanship with a modern feature, such as a sleek contemporary – and very practical – worktop. 
Easy and cheaper to install because these types of islands don't require plumbing or wiring for sinks or hobs, they're the perfect prep spaces for the keen cook. This design cleverly accommodates kitchen island seating and storage. 
The clean lines and on trend – but also forever classic – grey kitchen cabinetry combine with the sleek worktop to create the perfect combination of contemporary and traditional design. 
25. Go all-marble for maximum design impact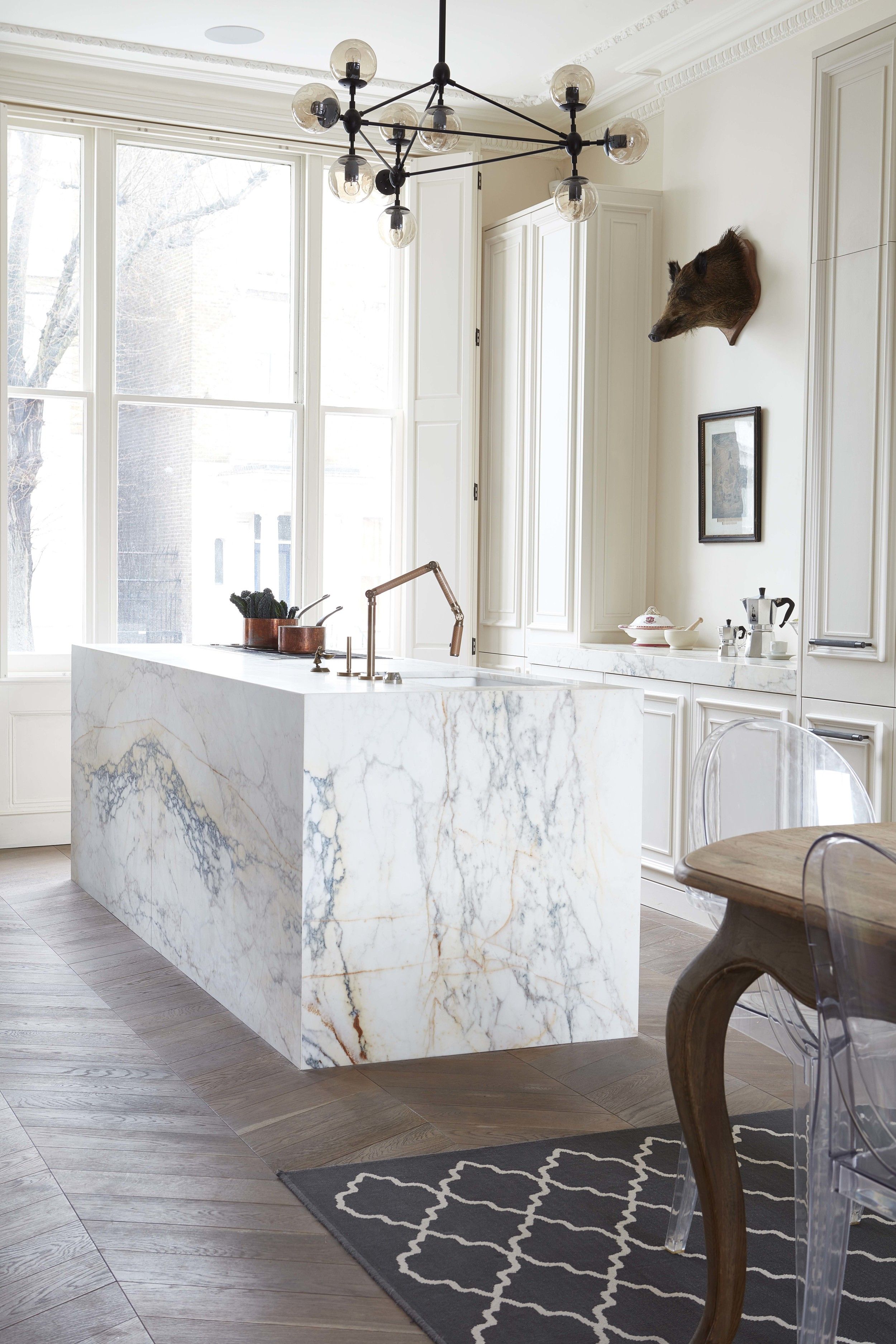 (Image credit: Blakes London)
Kitchen islands come in a wide variety of materials and finishes, but for maximum design impact, nothing beats an all-marble island. This kitchen by Blakes London has been taken to the next level with a marble island that showcases the unique veined pattern in the stone; luxurious yet understated. 
26. Or mix marble with other luxe materials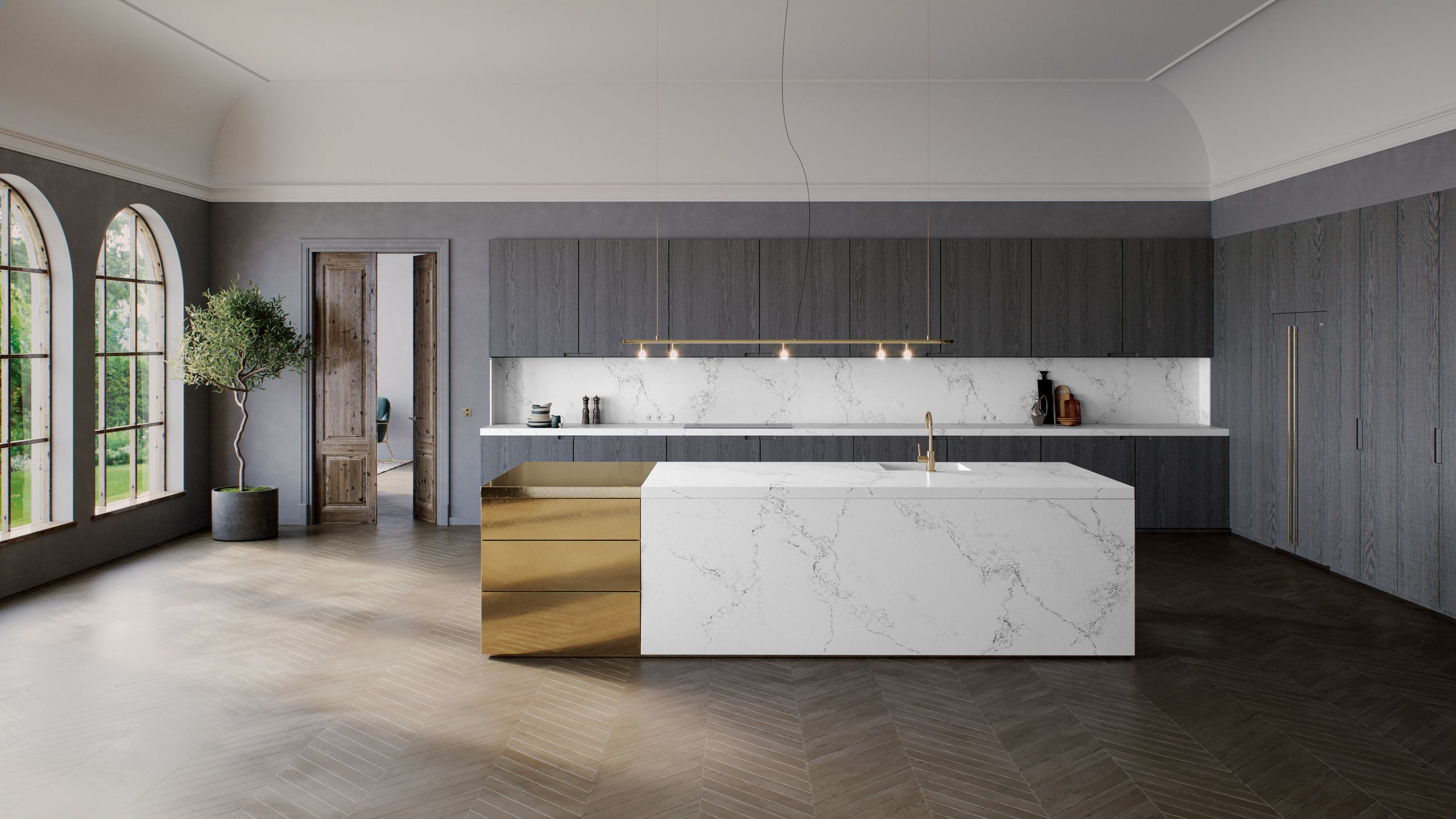 (Image credit: Caesarstone)
Marble continues to be one of the most popular stone styles for luxury kitchen worktops – and we can see why: sophisticated and stylish, it adds a timeless feel to any interior. If you're designing a kitchen with a luxe, yet contemporary feel, consider combining a stylishly understated white marble with contrasting, stand-out elements – we love this use of an on-trend metallic.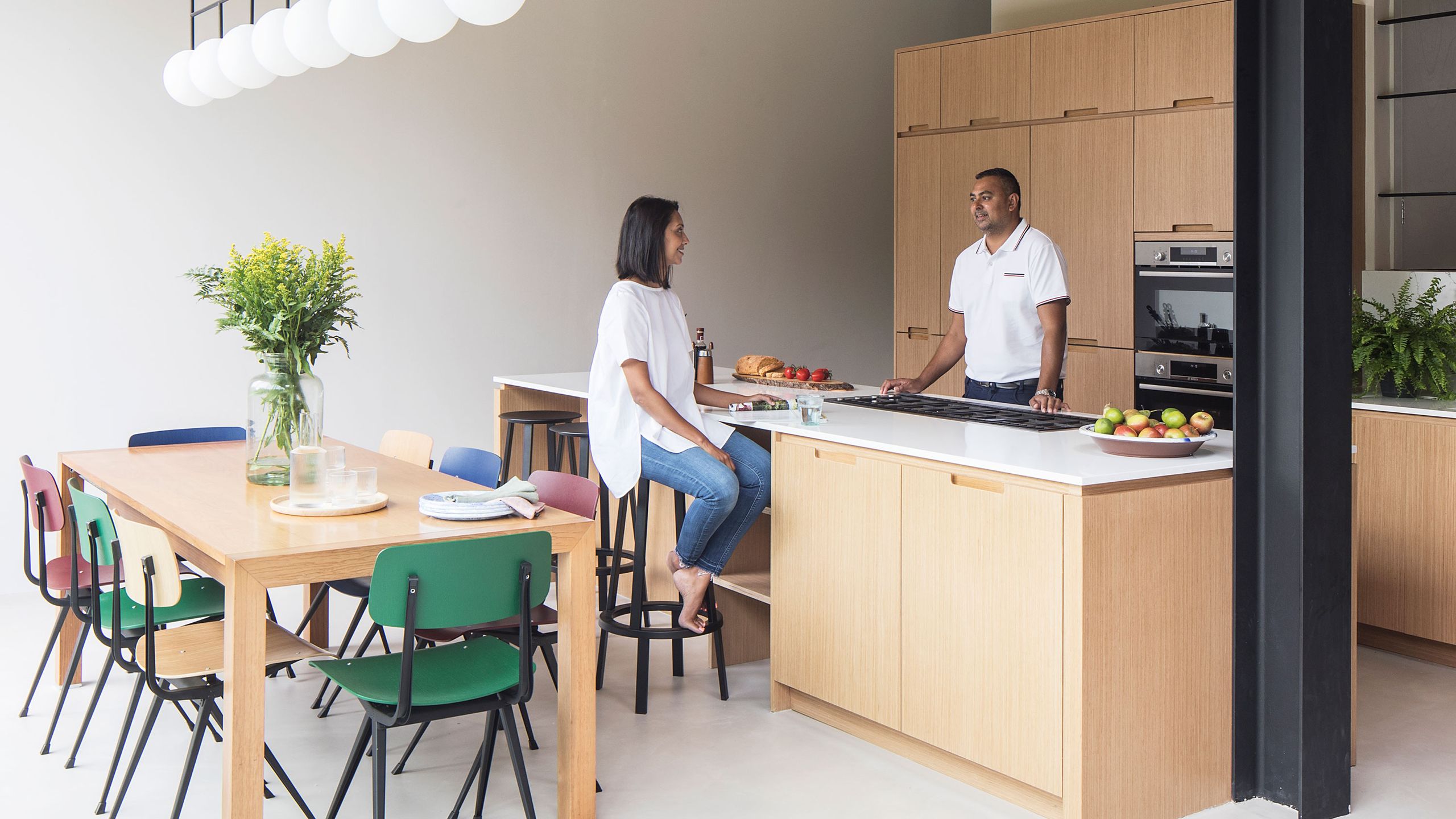 (Image credit: James French)
What works so well with this kitchen island is that it's truly multi-functional. Spot the hob, while we're loving the storage cupboard space too, but what's really bringing this look together is the addition of bar stools. It means that one person can cook, while the other(s) can sit at the breakfast bar. It's sleek, modern, and the steel legs of the dining room chairs match the bar stools also, creating relaxed yet very appealing uniformity.
28. Opt for wheels on your kitchen island for flexibility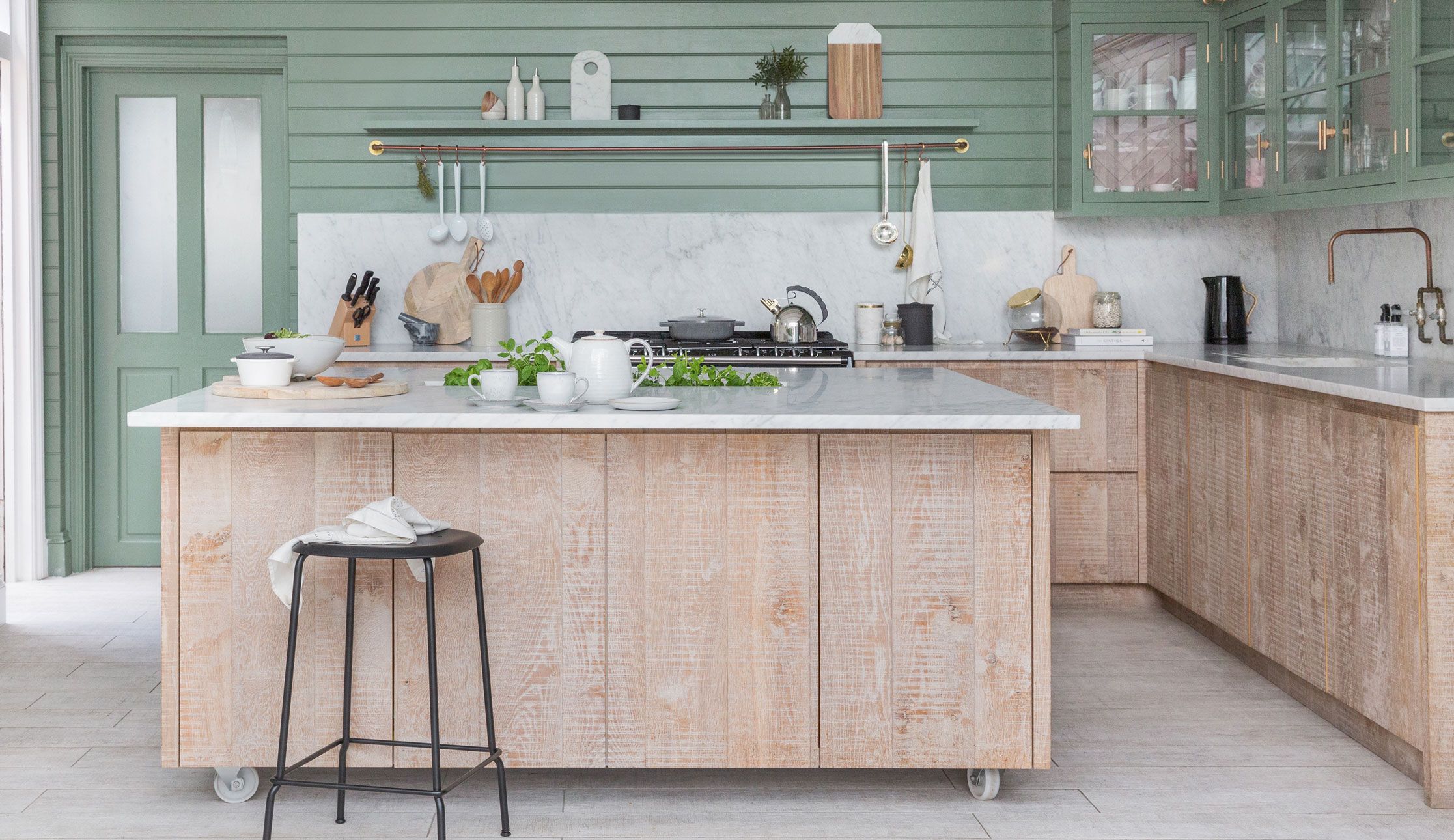 (Image credit: Amara)
Pared-back kitchens are starting to appear – no more fussy fixtures and fittings and matchy wall and base units. This delightful design by Amara is beautiful in its simplicity, it follows through the style of the base units and shows how useful an island can be. AND it's on wheels – so you can move it around, which in our book, is one of the most useful things ever! 
29. Take it with you when you move – the freestanding IKEA kitchen island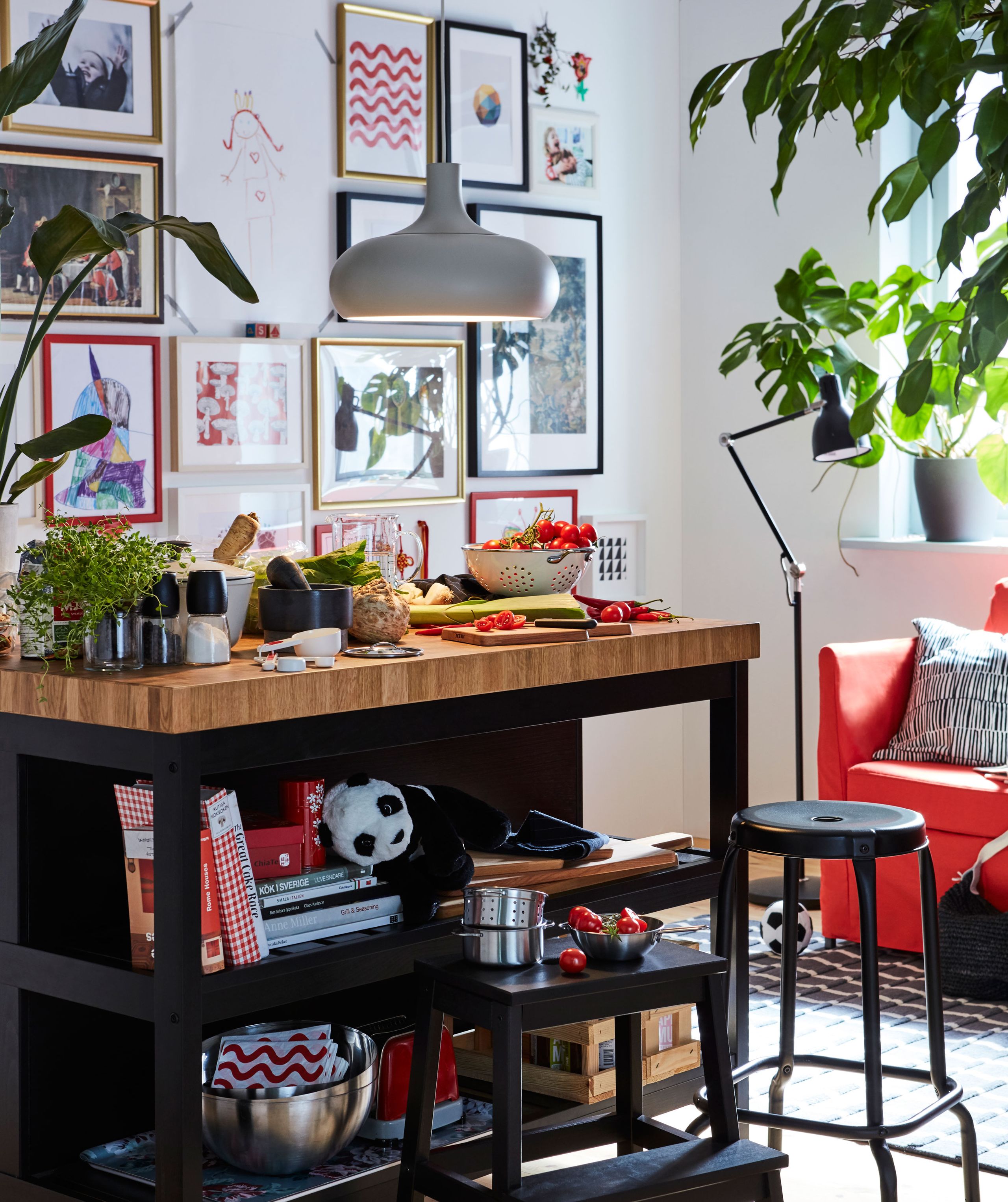 (Image credit: Ikea)
For those who don't have an expansive kitchen, the VADHOLMA from Ikea will serve you well. Freestanding kitchens give you freedom to move pieces where you want them, and you can change them about too – so you are essentially designing your own kitchen to suit your needs. This island offers extra storage and a great oak worktop – all for a great value price! 
30. Choose an unusual finish to make your kitchen island stand out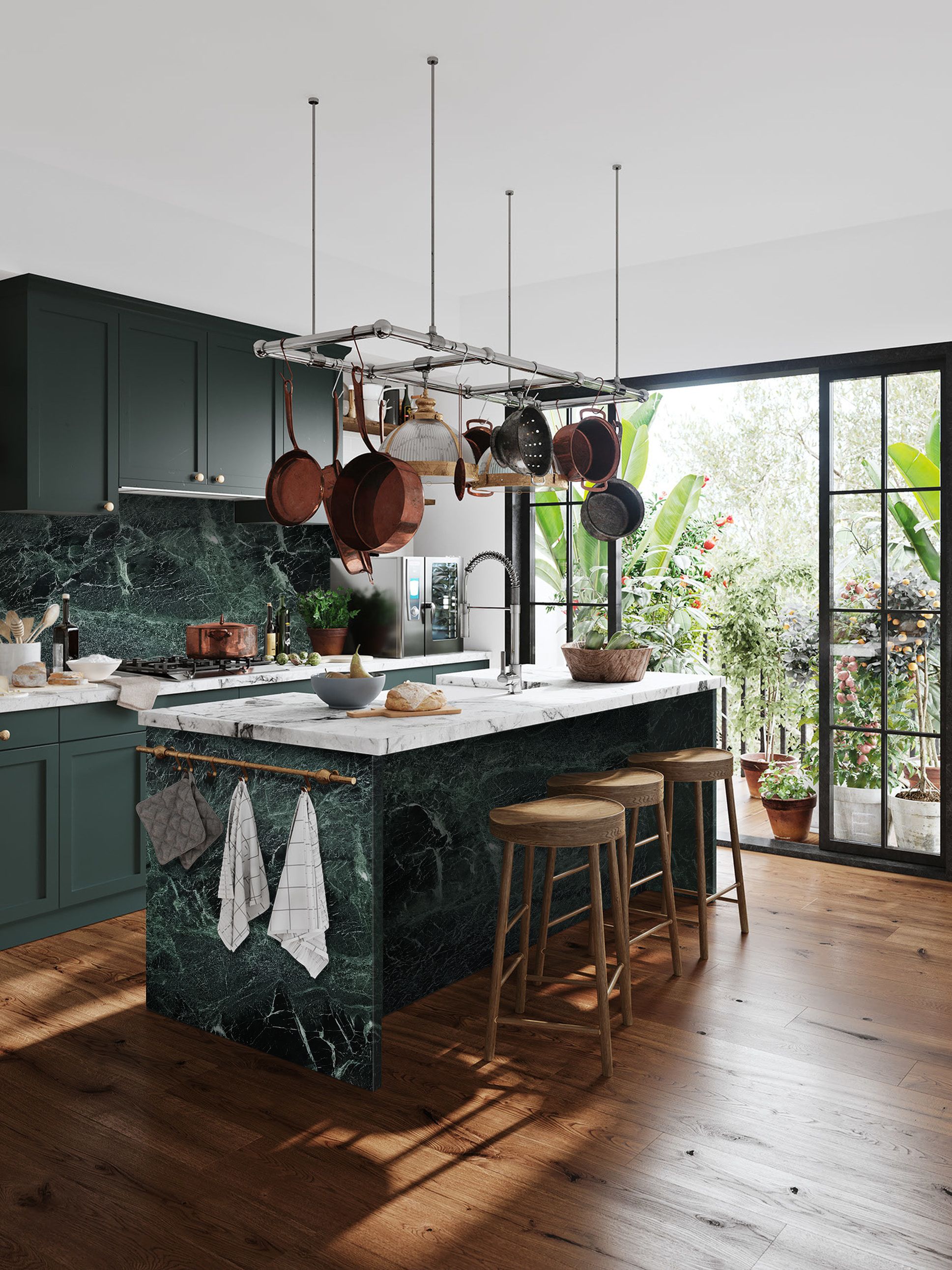 (Image credit: Verde Tinos)
Kitchen islands are designed to give you that extra space – and they often have to work very hard. They double as a worktop, storage space and breakfast bar. So why not give yours special treatment like this eye-catching design that features Verde Tinos Carrara slab? The all round marble ensures the island is the focal point of the kitchen and doesn't it look fabulous!
31. Integrate open shelving into your island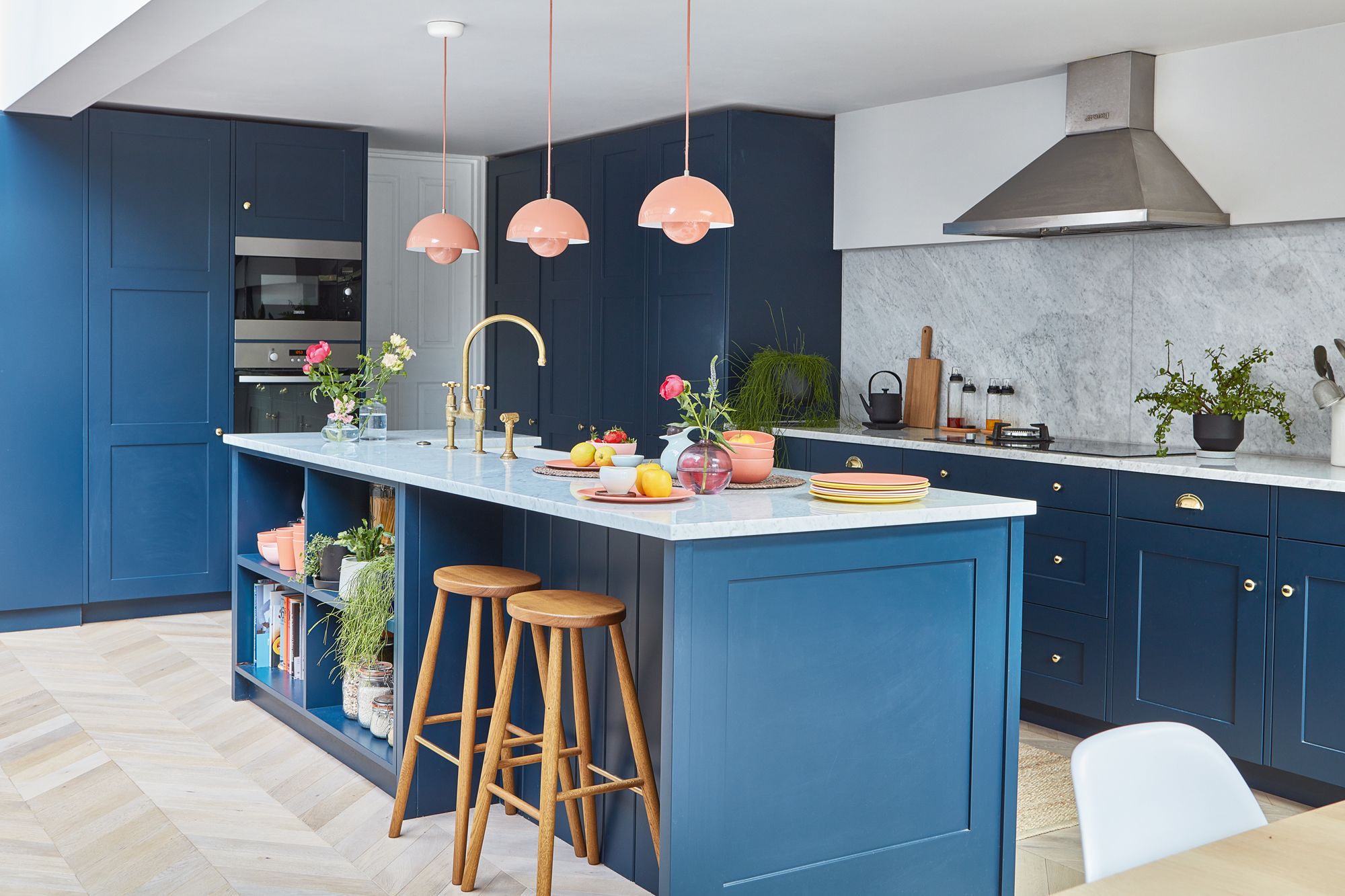 (Image credit: Malcolm Menzies © Future)
We're super envious of homeowner Lingjing Yin's gorgeous kitchen, but her blue island is the real showstopper, complete with open shelving to display cookbooks, plants and trinkets. Open shelving too hazardous with little ones around? Try glazed cabinets – we promise they've had a modern makeover. 
32. Contrast your island with your kitchen units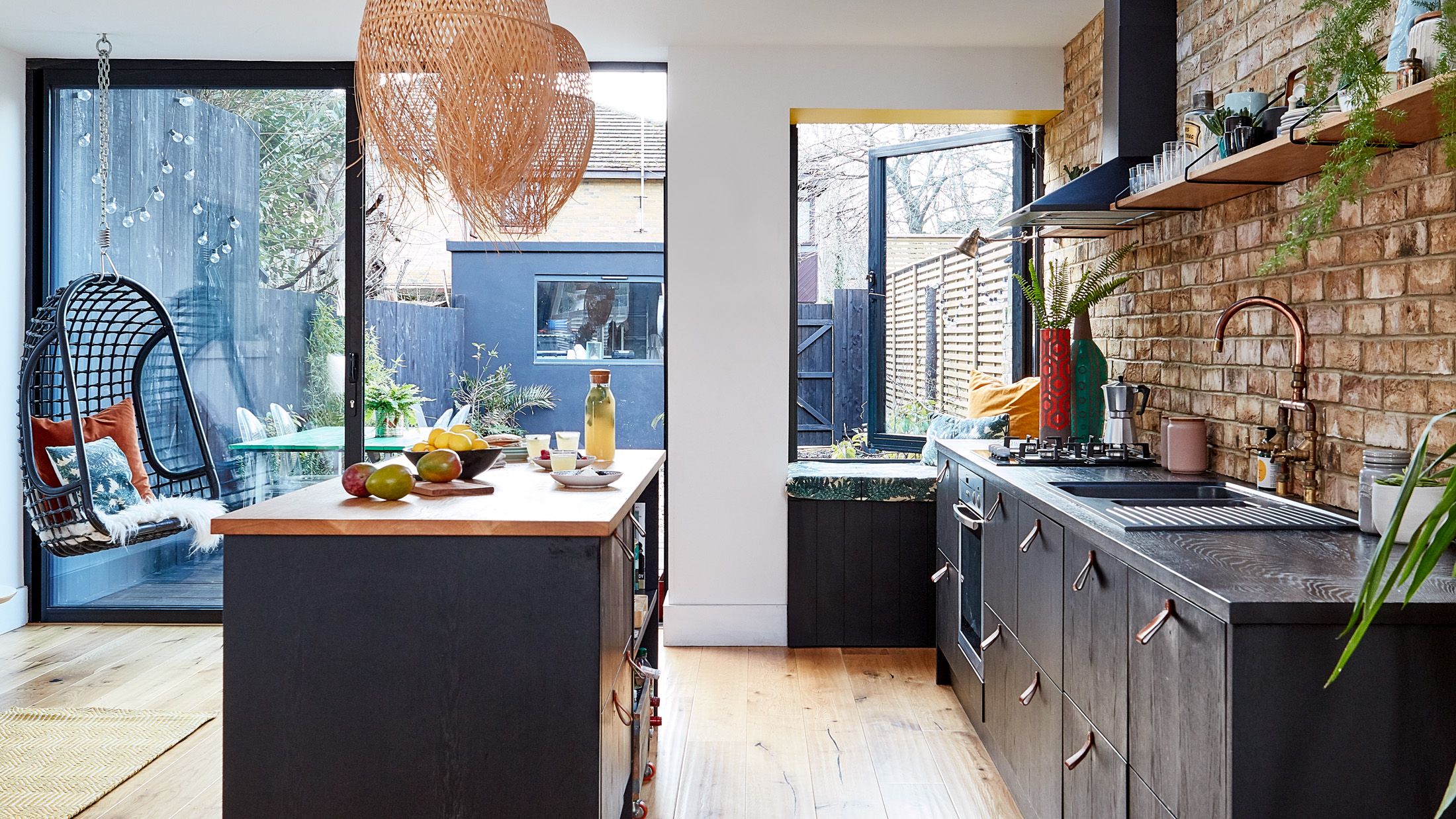 (Image credit: Malcolm Menzies ©Future)
If you prefer your island to stand out rather than blend in, opt for a different material or color to your main kitchen units. Here, homeowner Lily Pickard has chosen a subtle twist for her island, contrasting a black composite worktop with a wood-topped island. 
33. Pair a wooden island with a daring splash of color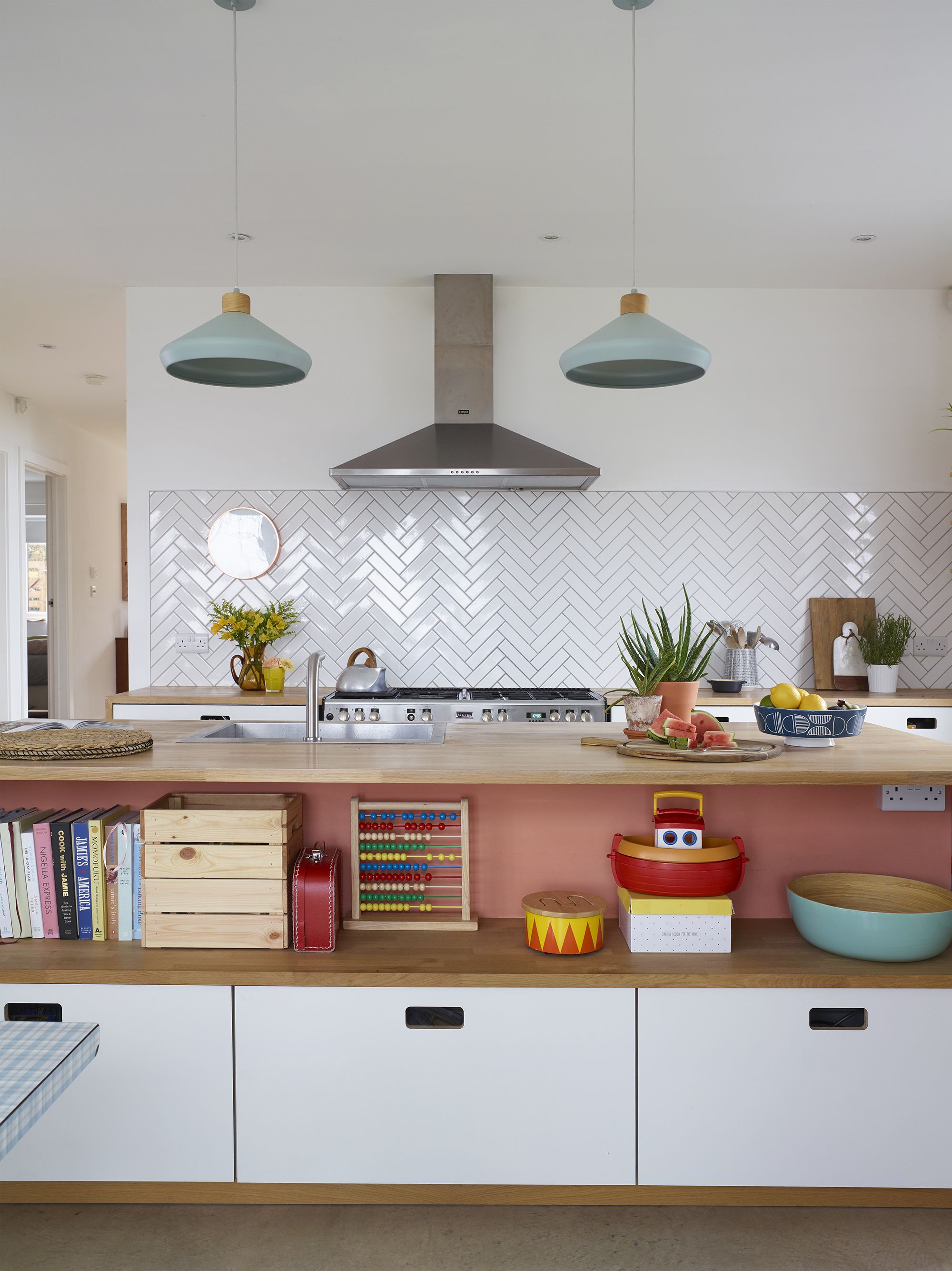 (Image credit: Rachael Smith)
Homeowner Rhiannon Payne used her kitchen island as an opportunity to introduce color to an otherwise neutral kitchen – and pairing the splash of pink with the natural tones and texture of plywood makes for a subtle take on a bolder scheme.
34. Create the illusion of a floating island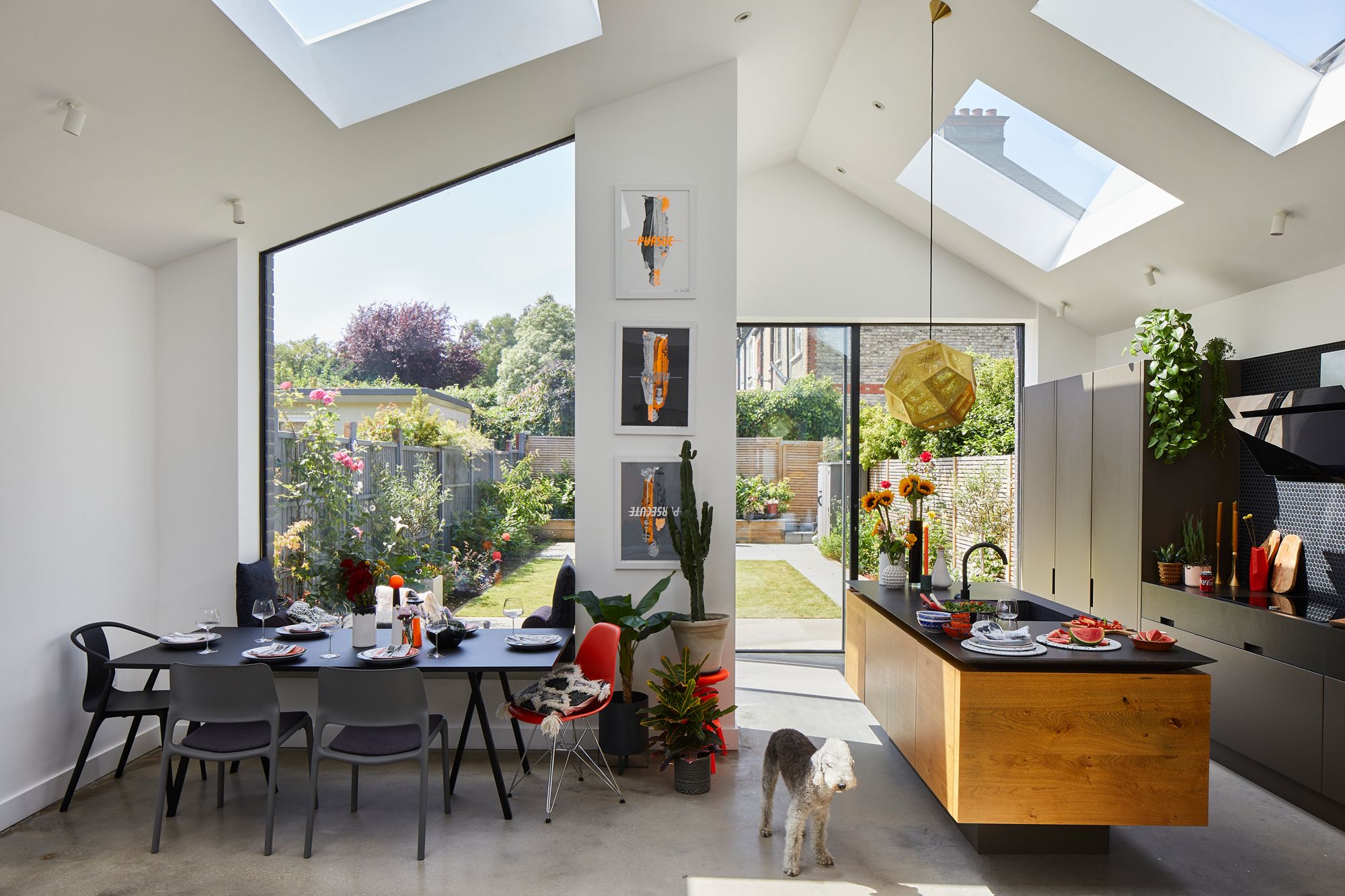 (Image credit: Chris Snook © Future)
This clever floating island belongs to architect and homeowner Prue de Wynter. Playing on the floor-expanding, space-saving illusion of wall-hung furniture and sanitaryware, this design uses a small base to create the effect of an island suspended in the air, adding a futuristic feel to a very modern space. Smart, eh? 
35. Build your whole kitchen into an island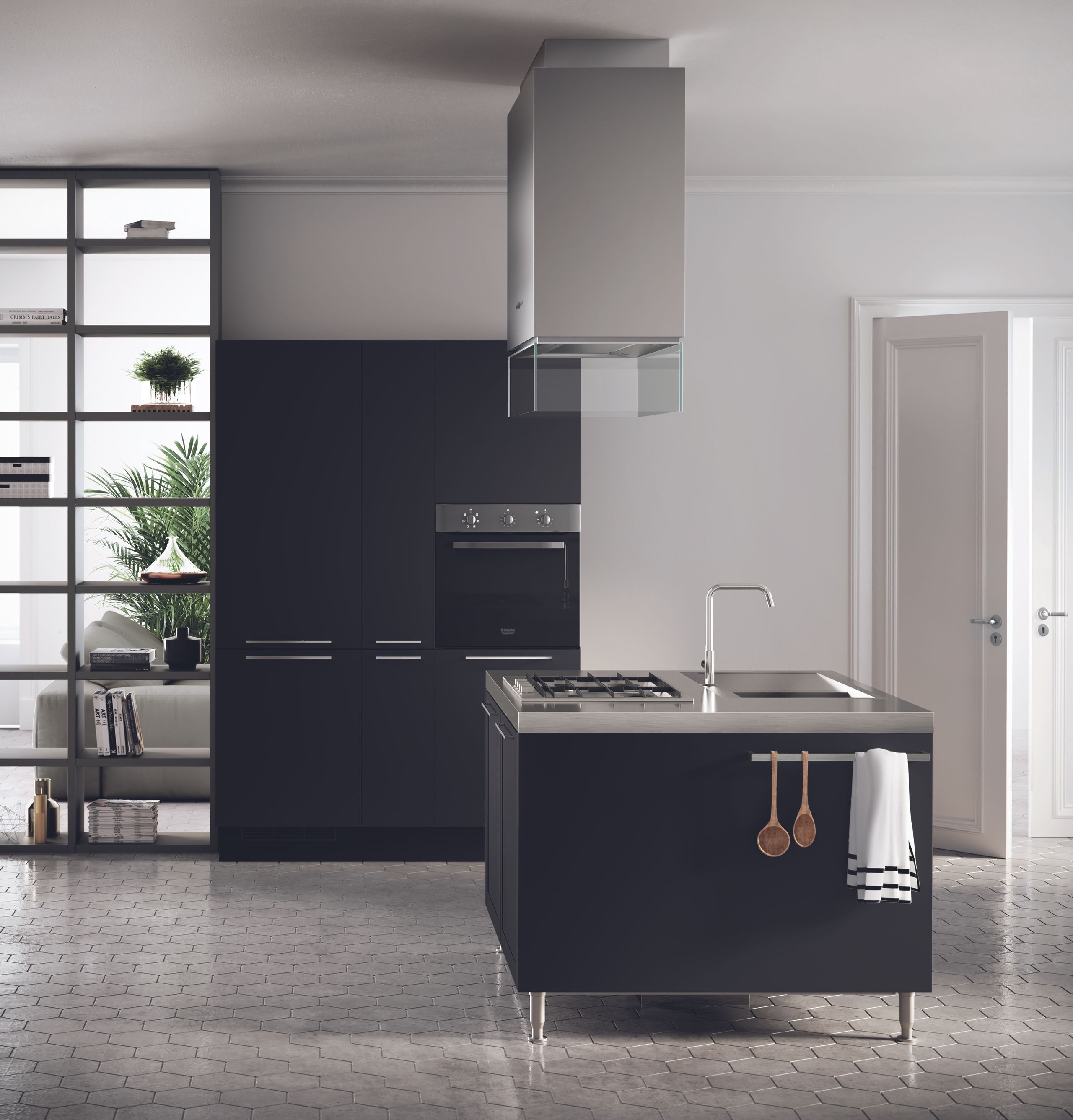 (Image credit: Scavolini)
Although this kitchen appears to be in a generously sized open plan apartment, the actual kitchen area is small. And this is why the kitchen island is key. If your kitchen is small and only has one run of base and wall units, then a kitchen island can work wonders. This design houses both the hob and sink which is a fabulous idea – make it work hard for you – it's the workhorse of the kitchen especially when space is at a premium. 
36. Got a small kitchen? Pack in as much storage as your can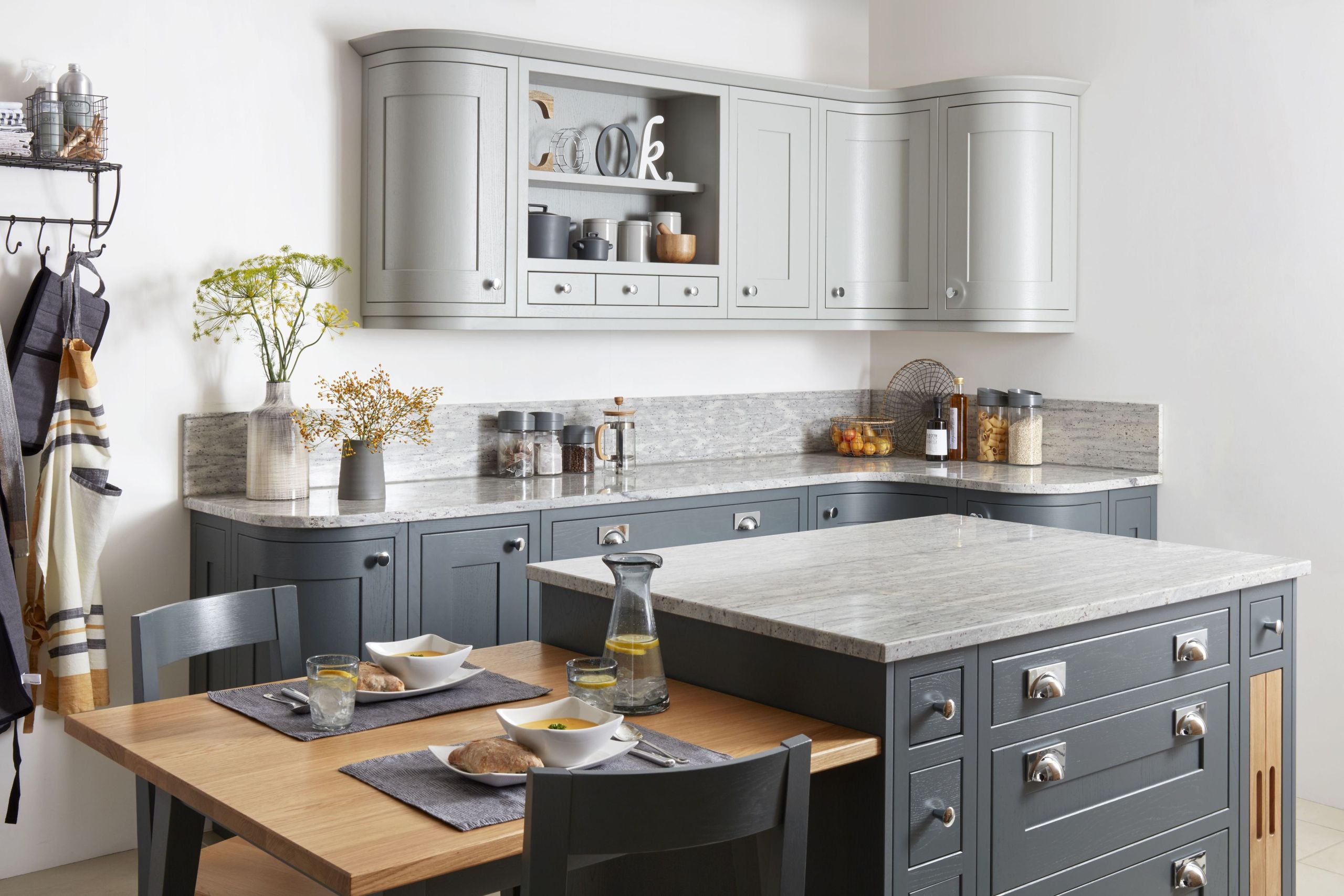 (Image credit: Burbidge)
When space is tight you need to use every spare inch of storage available, so give yourself a helping hand by fitting your island with as many drawers as possible. This will take the pressure off your standard wall and base units. If you have the length in your kitchen then adding on a small table like shown is a great option – paint the chairs in the same colour as your units to tie the look together. 
37. Use a kitchen island to separate a dining space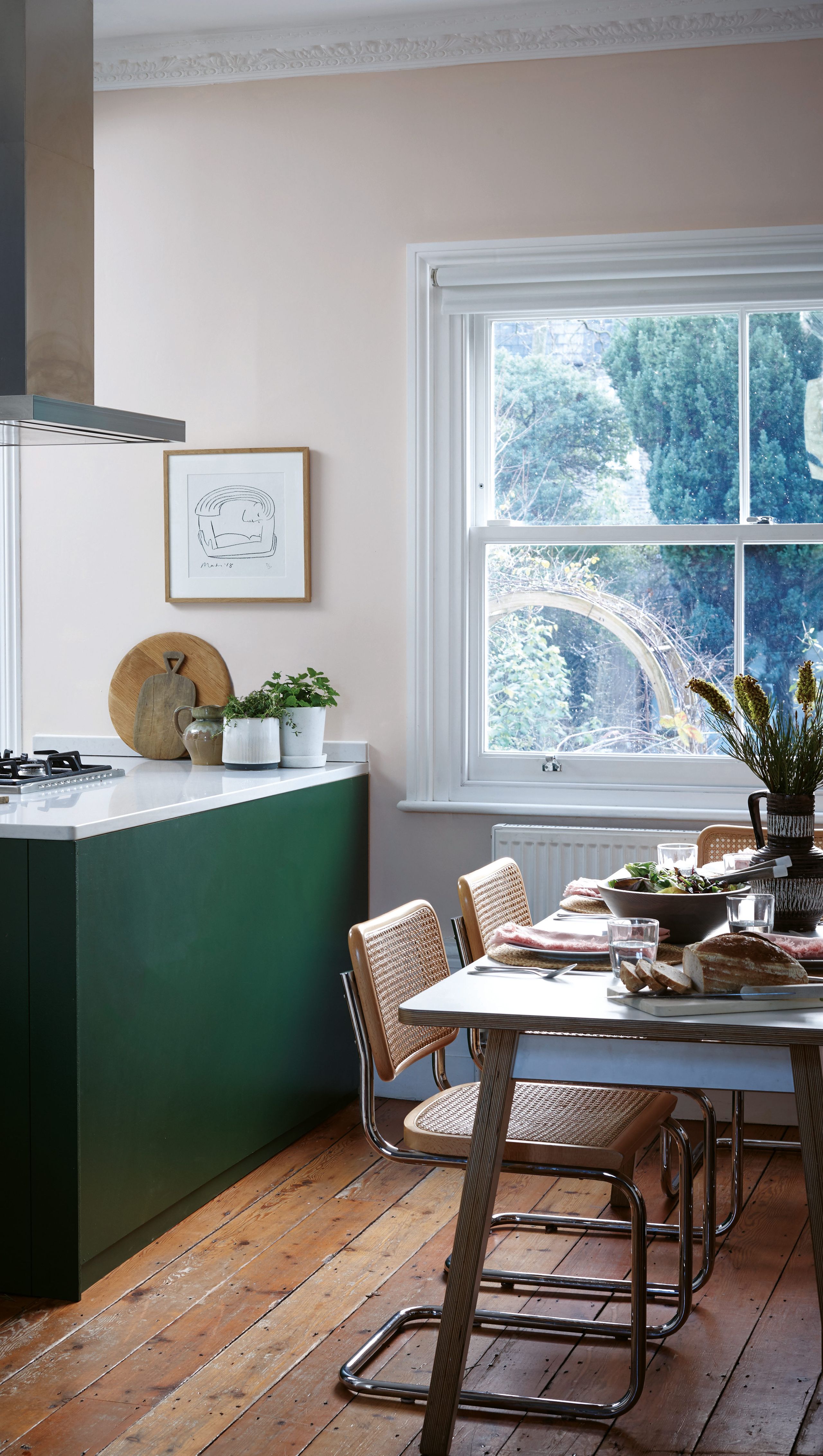 (Image credit: Farrow & Ball)
If your kitchen dining area is open plan you can use an island to create a zone – or barrier so to speak. It won't impede on your space, only enhance it by creating a worktop that can be used from both sides which can be particularly useful if you love to entertain a lot. We love the bold green shade, you can use this as an accent color and carry it through into the dining table with bottle green napkins, plates or glassware.
38. Build appliances into your kitchen island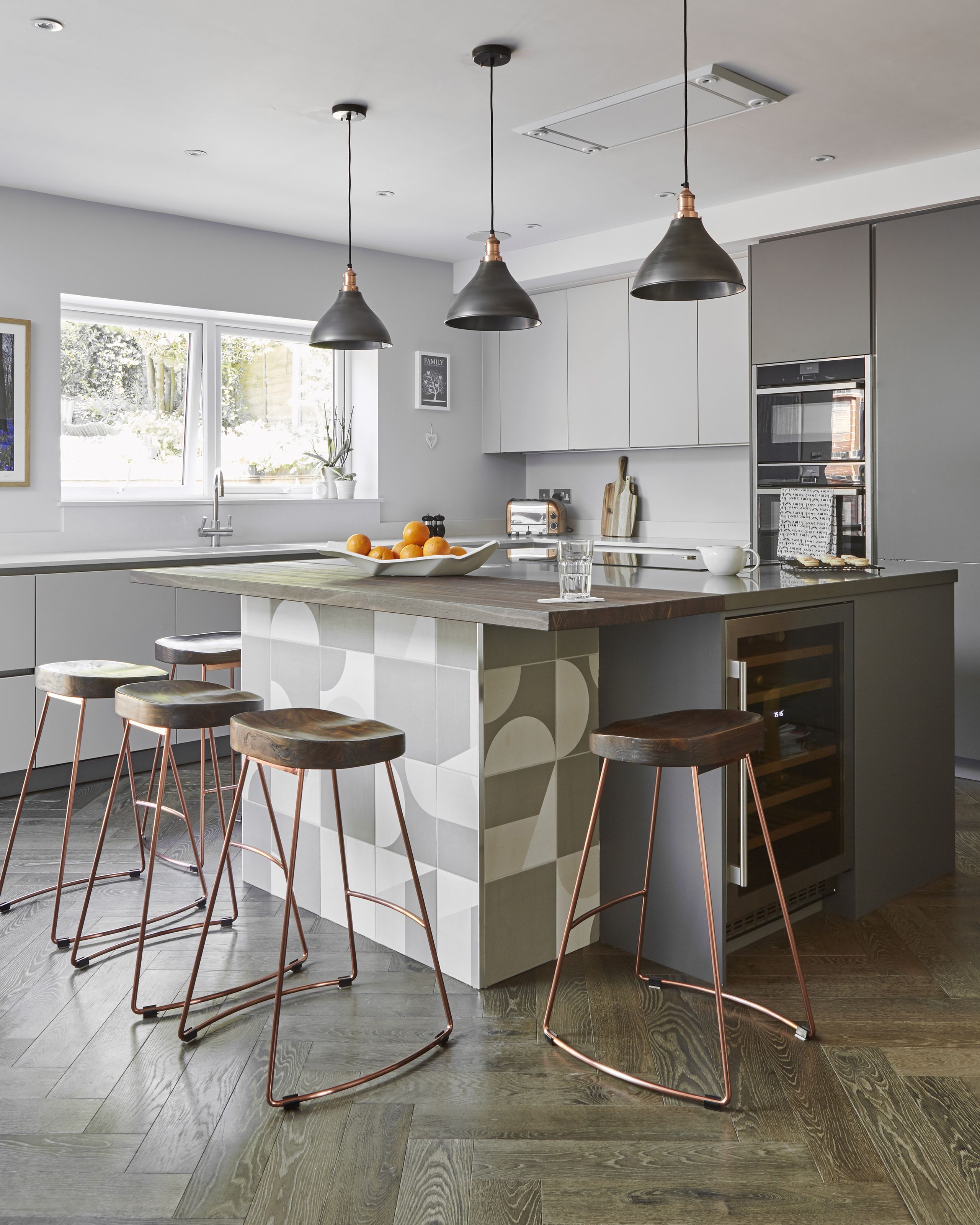 (Image credit: Industville)
When you are limited with how many units you can fit into a small kitchen then fully utilize your kitchen island instead. Appliances like dishwashers, wine coolers and fridges can be housed in it, and if you have the room add in a breakfast bar too. Another great design tip to detract from a small kitchen is to add a patterned section like this tiled area, it draws the eye straight to it and therefore away from the fact that the rest of the kitchen is small.
39. Use a small sideboard as a kitchen island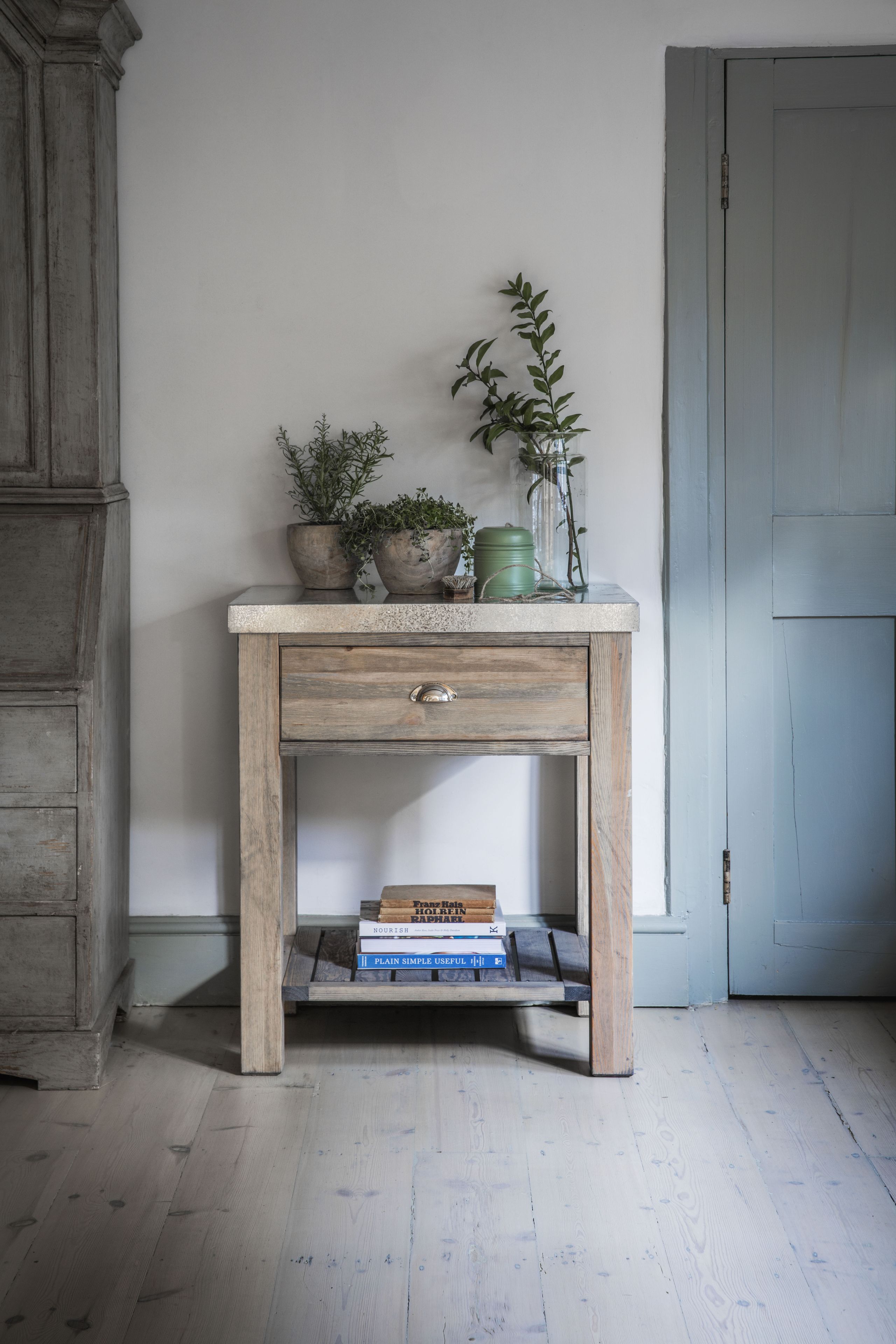 (Image credit: Garden Trading)
If you are stuck with a teeny tiny kitchen and have used up all of your creative storage skills, then do consider a butcher's block. They are a fab choice for small kitchens especially if you can't fit in an island. Most have a good solid wooden or marble top that can be used as an extra worktop and opt for one that has at least a drawer or two and a shelf. Anything is a bonus that takes the pressure off your kitchen storage wise. 
40. Pick something special for your island countertop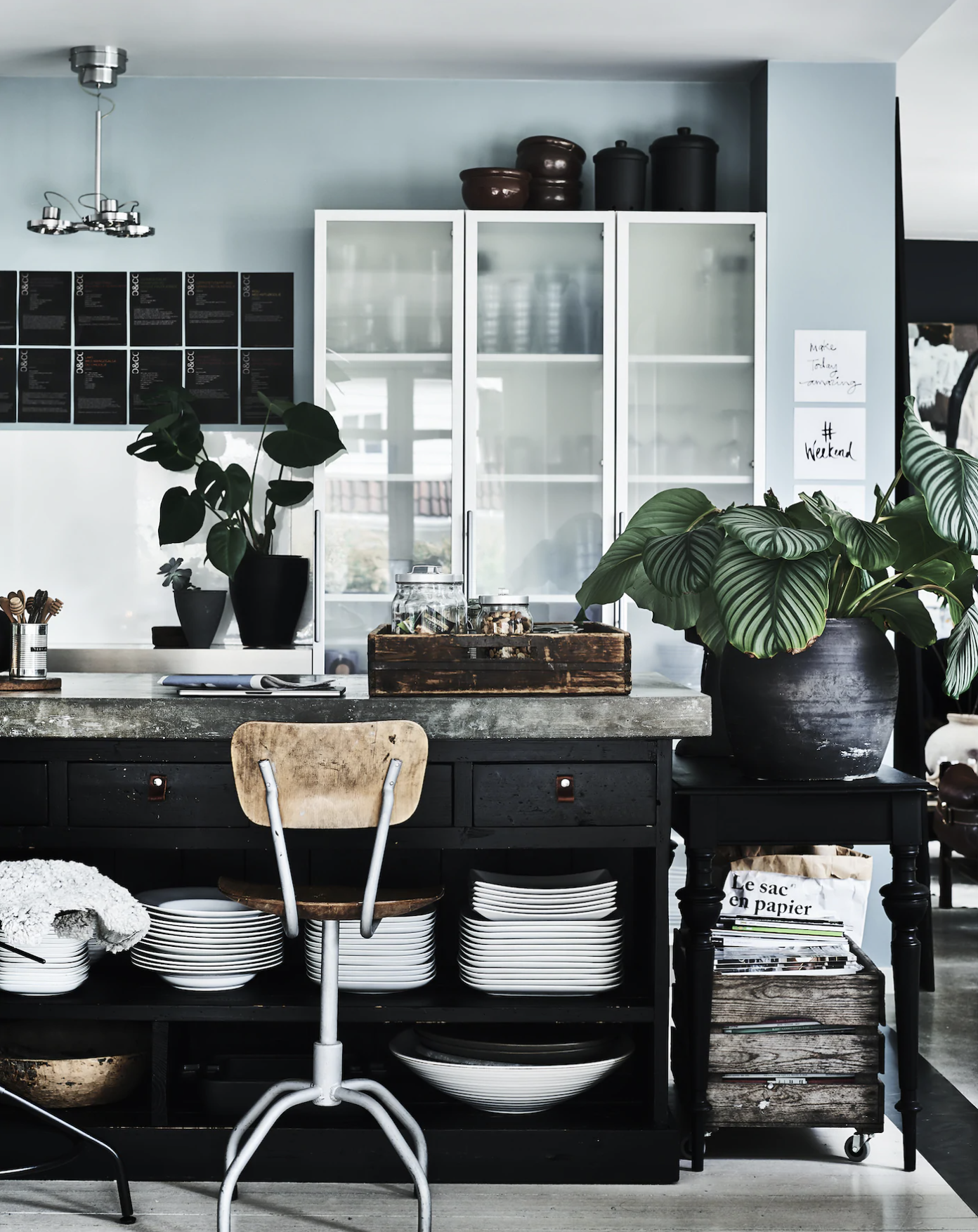 (Image credit: Ikea/Benjamin Edwards)
Whether it be a really intricate marble, a piece of polished wood, a slab of concrete or hammered metal, you can go bold with your kitchen island countertop. It also might be a place to splurge too since it is a relatively small section but could be the focal point of your kitchen.