The hardest working rooms in a home are the kitchen and bathroom. Both rooms have a steady flow of traffic, so it's not surprising that homeowners are always looking for ways to update them and keep the design fresh.
However, updating your kitchen or bathroom doesn't need to be completely remodeled.
Obviously expanding your kitchen or installing a new bathtub would be exciting, but for many of us this isn't exactly the most practical or cost-effective solution. But the good news is you don't have to think big to make a big difference.
"In these popular areas of the home, small changes to the finish can have an impact and change the overall look of the room," said Gena Kirk, KB Home Design Studio vice president. Bathroom and kitchen fittings can include door handles, cabinet handles, and wall paints.
So if you're looking for an interior freshening up, you can start with something quick and easy, like finishing off your kitchen or bathroom. Here are the colors and metal finishes that experts say will be great in 2021.
1. Greige is the new gray
Design experts say that warm gray, or a color that is a combination of gray and beige, replaces cool grays in closets and floors.
"Even before COVID-19, that change was in progress," says Kirk. "Gray was ubiquitous and people were looking for a restart and an update." Homeowners want a warmer, calming environment. While gray is still popular, shades of gray with shades of yellow or beige are more inviting and relaxing. "
Greige furniture
KB Home
Kirk says the right color, like Sherwin-Williams Perfect Greige, can easily transform a room. She says this color is less harsh than white and overall softer and warmer.
This color "goes well with everything, but when combined with blue, pale green, cream, taupe, natural stone and light wood, it evokes a nurturing and transforming spirit," says Kirk.
Another way to bring the tone to life is to put accessories like a gray wicker basket ($ 39.99, Target) in a pantry or bathroom shelf.
2. Brass with a brushed gold finish
Photo by Hunter Douglas
Brass as a material for lighting and plumbing fixtures can create a lasting, classic style. But in the New Year, brass is going a fun new direction when it comes to finishing.
"Since stainless steel and nickel have been the norm for so long, the brushed gold finish is a refreshing alternative. It looks like a handcrafted piece that was made by a craftsman, "says Kirk.
"Brass with a brushed gold finish is warm and sparkles like jewelry," he says Laura Bohn by Laura Bohn Design Associates. "While chrome finishes are disappearing, brushed gold finishes are much more noticeable."
She says homeowners can achieve the look by installing new cabinet handles, drawer pulls, or a faucet ($ 296.25, Home Depot) for an easy swap and an instant update. Or, choose a bowl ($ 150, aim) in the same finish and fill it with fruit.
3. Matte black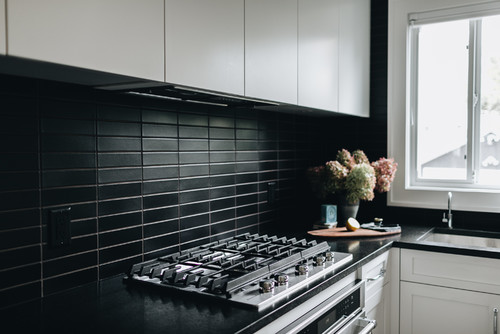 Photo by Fireclay Tile
"We haven't seen black faucets that much until recently," says Kirk. "The simplicity and contrast of black add depth to any room and add a dramatic and expensive accent."
Matte black for backsplashes, tiles and hardware can be a nifty addition and can be paired with brushed gold elements for a more modern look.
Bohn agrees, saying that black can serve as a great neutral backdrop and that homeowners can add white and brushed gold elements to keep the look bright and fresh – for example, black cabinets plus a white counter plus a brush-gold faucet.
"Matt black is elegant and chic and looks impressive in combination with almost any color or shade," says Kirk.
Kirk says that Spanish-inspired black and white floor tiles are very popular right now, and this type of tile can be seen in bathrooms and on kitchen splashbacks.
If you're on the hunt for a budget, update your kitchenware with matte black cabinet knobs ($ 12 schoolhouse) and pull-outs ($ 26.99 Amazon).
Kirk also recommends painting a black square in the kitchen with blackboard paint. You can write on the square to create a family calendar or keep track of your shopping list.
In a guest bathroom, try going for a dose of drama with all black walls or cabinets.
4. Weathered nickel finish
Weathered nickel cabinet pulls
pottery
Those looking for a more subtle atmosphere should consider lights and lighting options in a weathered nickel finish.
"Weathered antique nickel is actually a gray metal that has a fresh look. Both weathered nickel and brass are softer items; neither are noticeable, "says Bohn.
Kirk says these additions are versatile and work well with traditional, transitional, or modern styles.
"Weathered nickel hardware looks beautiful and sophisticated," says Kirk. "Adding cabinet hardware (starting at $ 12.50, Pottery Barn) or a great pendant light ($ 53.96, Home Depot) in this finish can add a notch to the room with instant warmth."