After eight years in a dark and somber kitchen, Helen McLean finally has the sociable open space she has always dreamed of. While she'd be the first to admit how stressful it was to get through, the transformation has changed her family's life – all without the need for extension. With a busy family life and several pets, carving a new utility room out of the garage was a boon too and is used every day.
Here Helen shows how, by knocking together two rooms and reconfiguring the existing room, she got a light-flooded kitchen and living area in an industrial style, which is highlighted by metallic and neon-colored accents.
If you're looking to design your dream space like Helen, we have plenty of ideas and helpful tips on where to start with our home renovation feature. You can find more real transformations for your home on our hub page.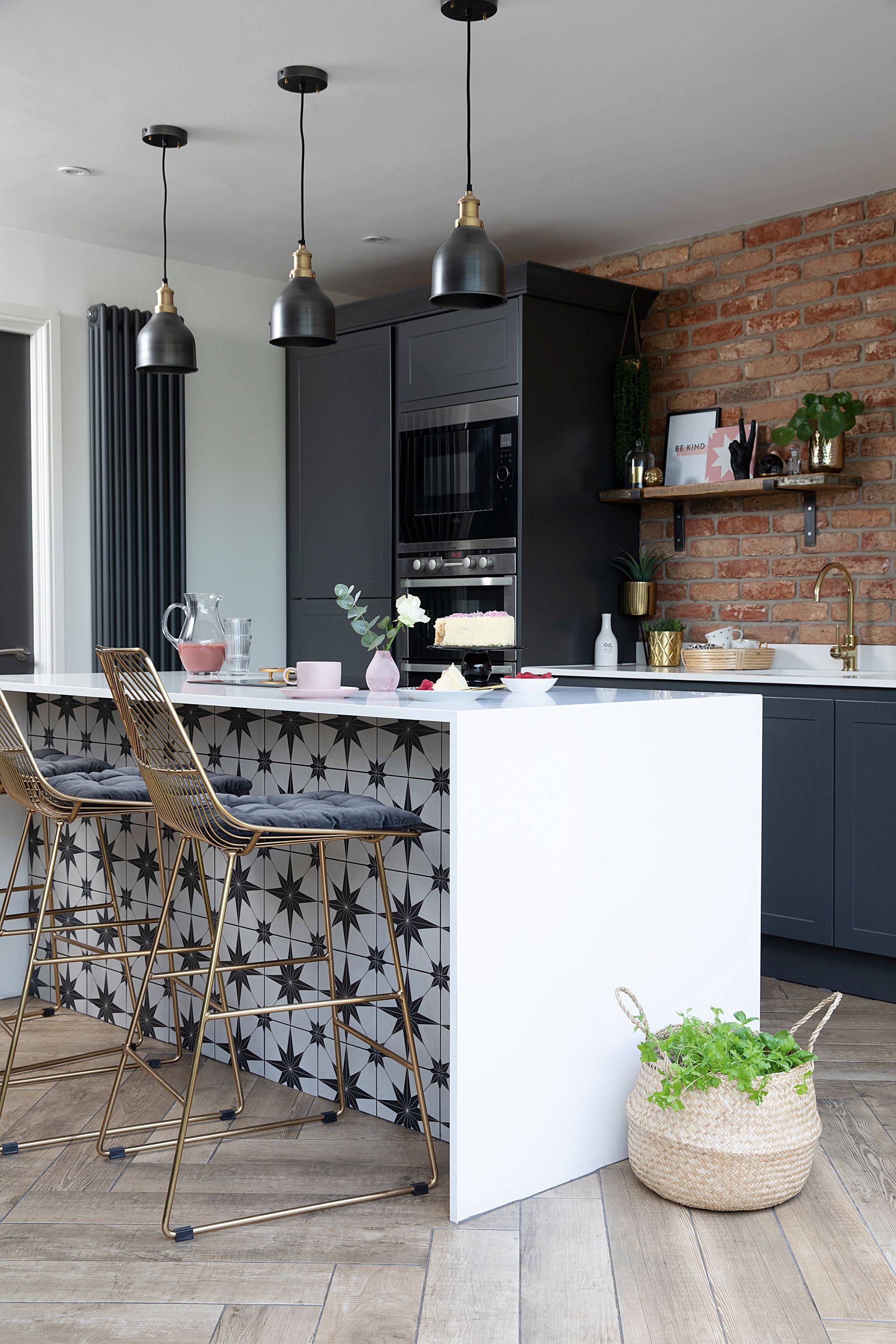 A vertical radiator and tall units with an oven and fridge-freezer made the most of the space. "We chose handleless doors because the clean lines give the traditional shaker units a contemporary touch," says Helen. Ovens, AEG. Radiator, Victorian plumbing
(Image credit: Katie Lee)
profile
The owner Helen McLean (@mamofboys), a beauty salon owner, her husband Stewart, a police officer, and their children Benjamin and Alexander, plus the cocker spaniels Indie and Finn, the Bengal cat Rafferty and Arlo the bearded dragon
The property A 1990s four bedroom detached house in Sunderland
Project costs £ 25,060
"After outgrowing our previous home – a three-bedroom house on the next street – we moved to a four-bedroom single-family home that we had room for improvement," says Helen. "A separate kitchen, dining room and winter garden in the back area weren't ideal. The kitchen felt pretty dark and we had to turn the lights on during the day too. I would also have liked a separate utility room. Since the birch units we inherited were of good quality, I first painted them with Farrow & Balls Pavilion Gray eggshell. This temporary quick fix has put me at ease for a number of years while we have patiently saved to replace it. '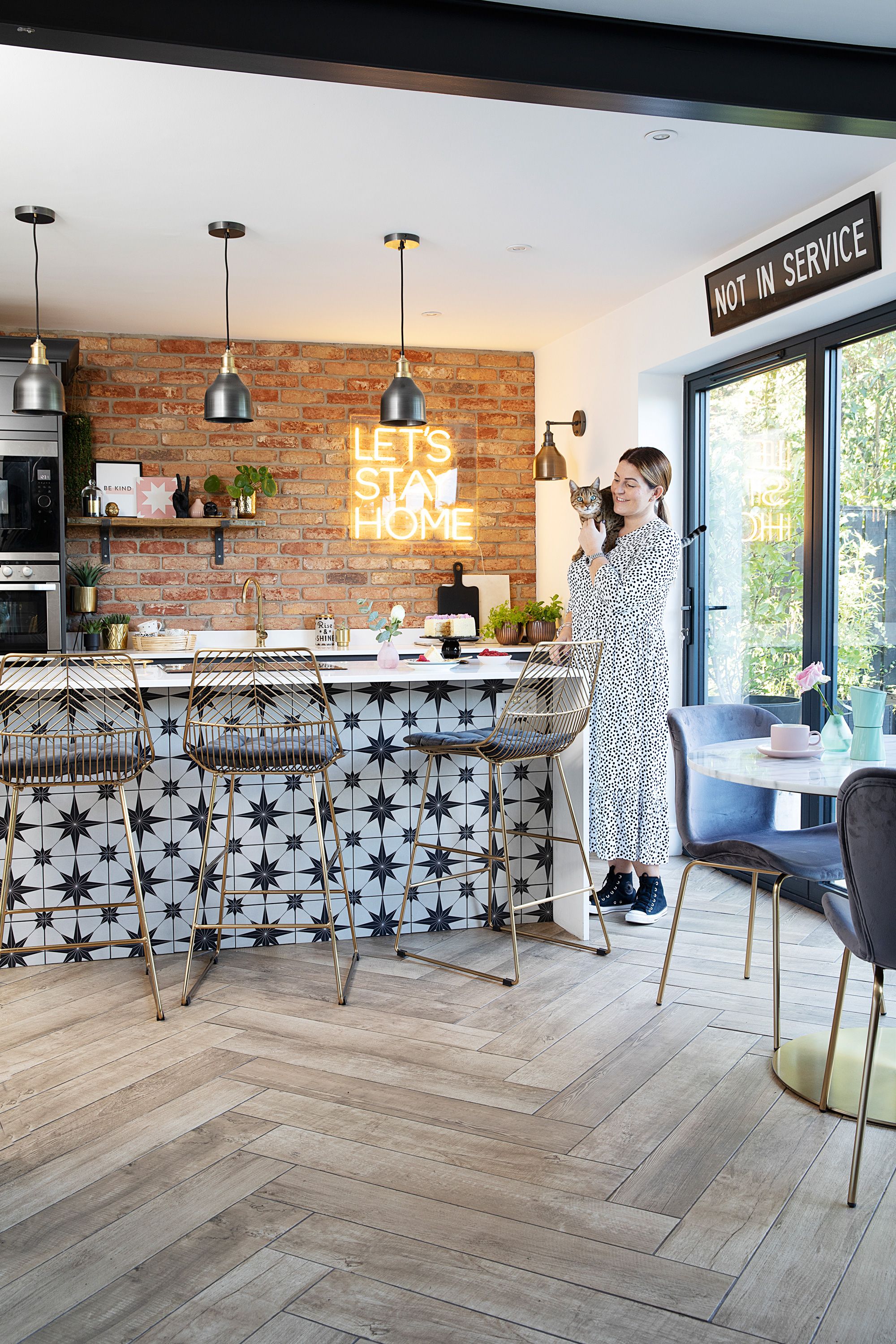 "Since our color palette is pretty neutral, I try to generate interest in texture, patterns, and quirky home decor," says Helen. "Mandarin Stone's island tile was a bold decision, but it's one of my favorite features along with the brick wall." Kitchen units, Ellerton by Second Nature, painted in slate. Household appliances, AEG. Island tiles, tangerine stone
(Image credit: Katie Lee)
"Eight years after moving in, we decided to remove the wall between the kitchen and dining room in order to really open up the space. To solve the lighting problem, we planned to demolish our existing conservatory and replace the kitchen window and patio doors with double folds. It made sense to use the garage space – formerly a garbage dump – to also create a separate utility room. We had to move the back door slightly and work around the existing boiler to save money, but it was worth the extra work. A structural engineer was called in before the changes were made, but it was much cheaper than an extension. '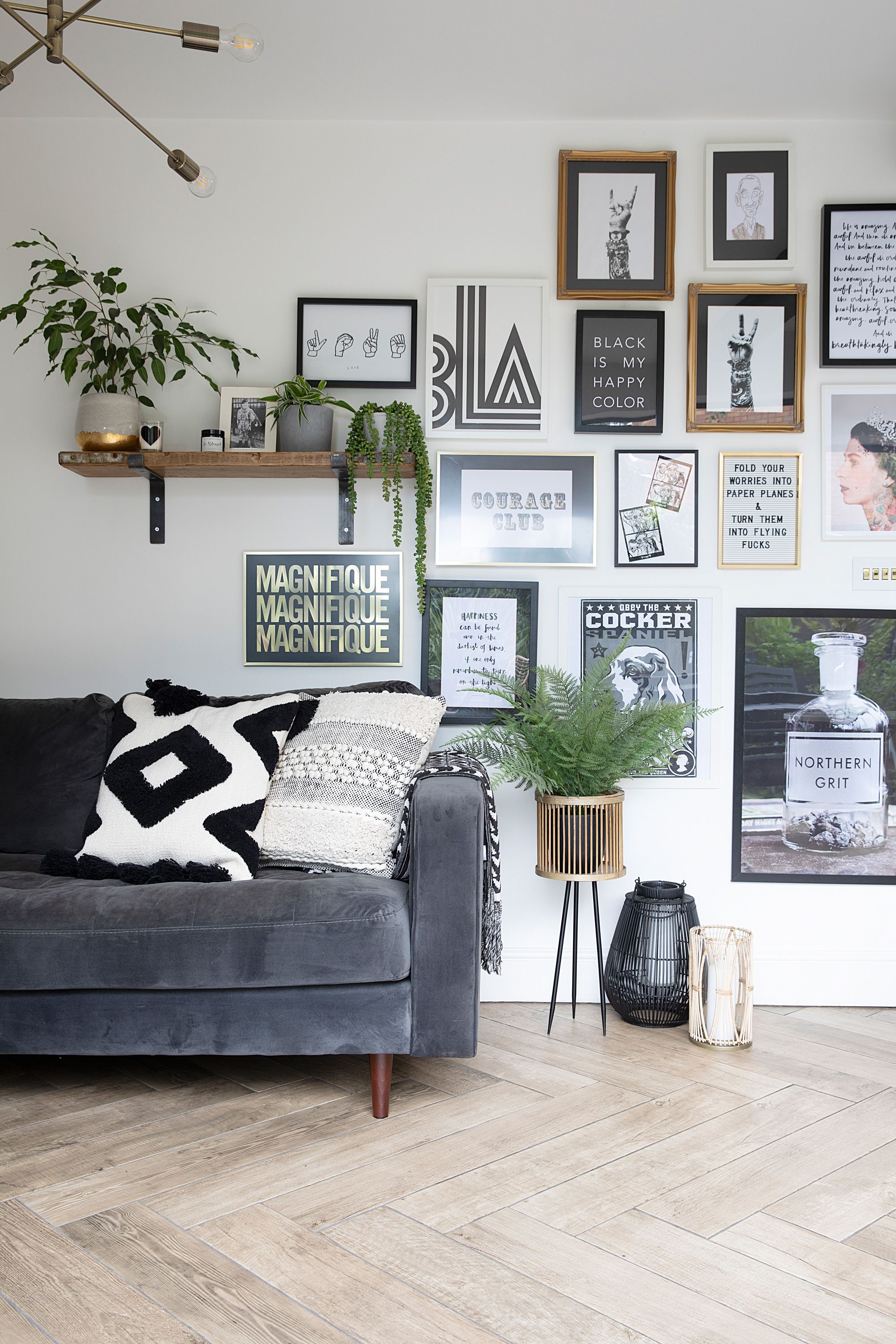 By sticking to black, white, and metallic prints, but confusing the frames, Helen's quirky gallery wall appears cohesive. For a similar sofa, try the Scott, Made. Monochrome pillow, H&M Home. Alana ceiling lamp, där Lighting. Northern Grit Print, Vinegar & Brown Paper. Script prints, Jessie M Design. Photo booth illustrations, little bison. Plant stand, Matalan
(Image credit: Katie Lee)
"I'm a bit of an interior junkie, so I took inspiration from Instagram and my long-term dependence on home magazines. A kitchen island was a must and I imagined traditional shaker style units with a modern twist. Just as I was beginning to believe there was no one-size-fits-all style, we discovered the Ellerton range from Second Nature Kitchens. I think Stewart would have preferred a more modern style at first, but luckily he's pretty happy to trust my judgment. There were few standard color options, so we paid extra for a bespoke dark gray to match the two-tone anthracite doors, with light gray for use where there is less natural light. '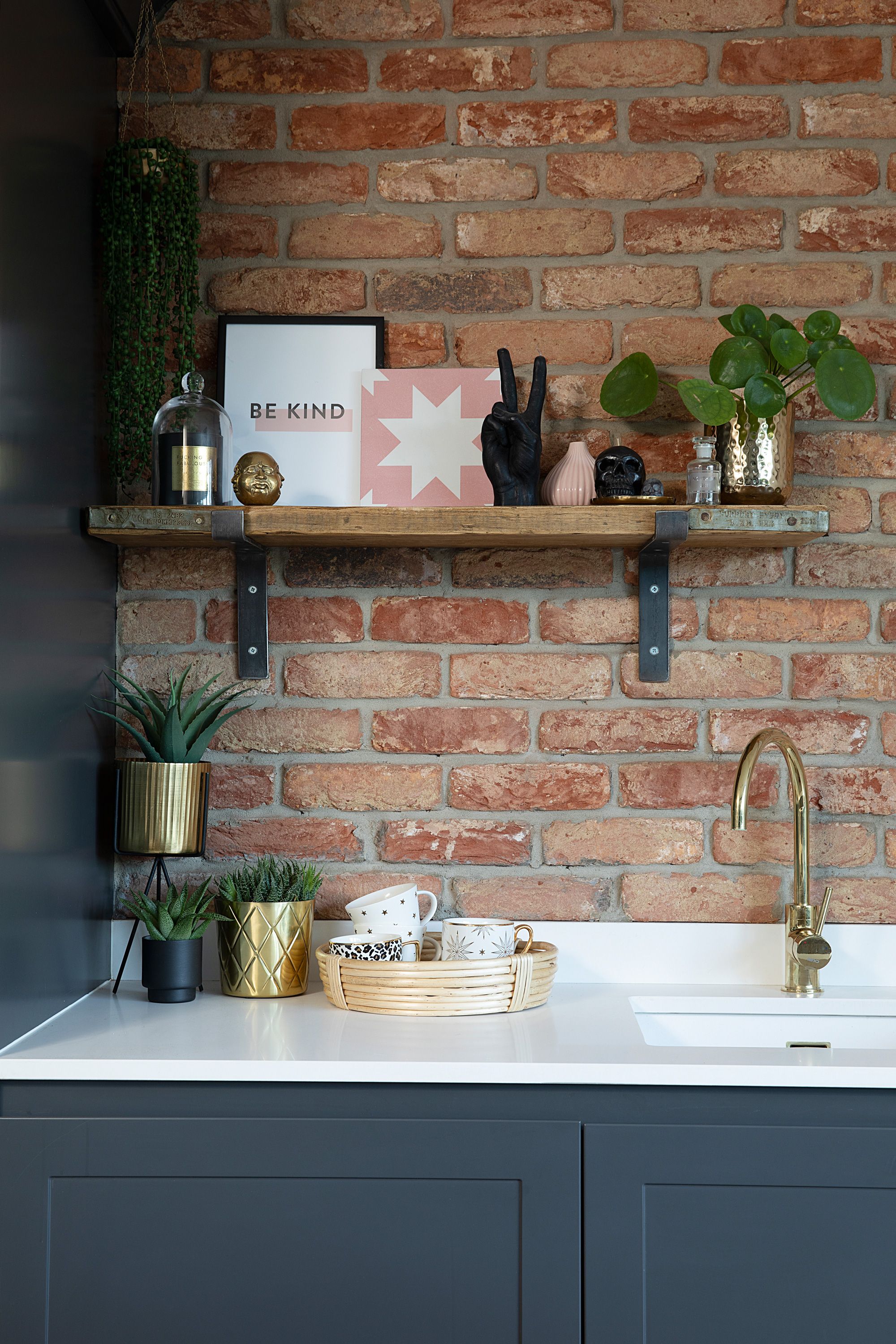 The industrial feel of the brick wall and scaffolding board shelf is warmed by a bronze faucet and accessories. Sink and Tap, The 1810 Company. Countertops, stadium stone. Shelf, barrel & bird. Print, Desenio. Gold planters, TK Maxx. Hand gesture candle, candle hand
(Image credit: Katie Lee)
'We're referring to our renovation as "Reno Hell" as the entire first floor of our home was in disarray! With the exception of our brilliant builders, we had a few problems. The kitchen customization was supposed to take a few days but took almost two months due to the wrong color units being delivered and certain parts missing. Then our new radiator fell off the recently plastered wall!
"To save money, Stewart tiled the floor and put up the brick wall. He worked tirelessly between shifts and was almost a broken man in the end! My electrician brother did the electrical work. When everything was done we were really overwhelmed and it took a few months before we finally came to appreciate it. '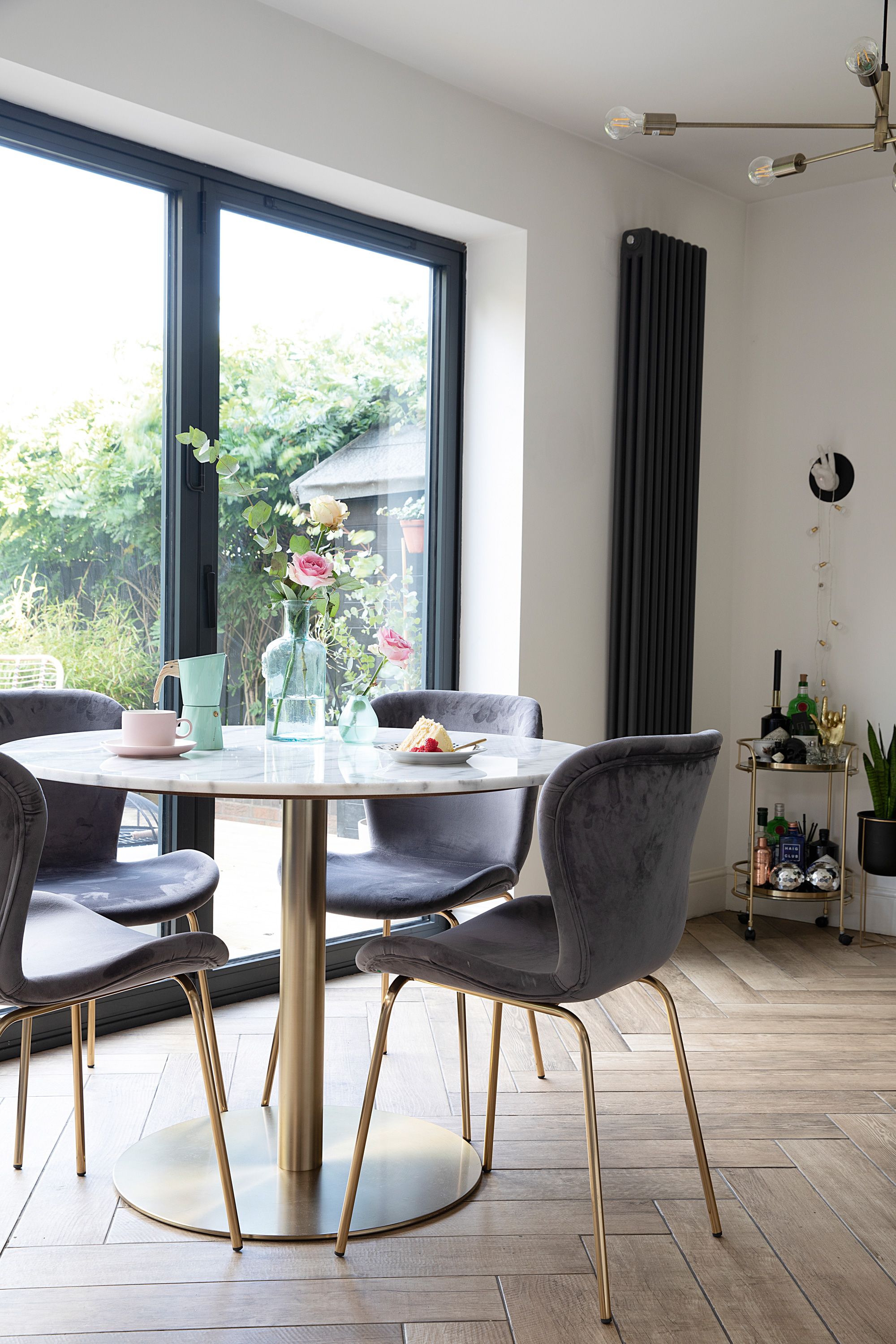 For a similar dining table, try the white marble and brass Apollo from Guangxi, Barker & Stonehouse. For similar dining room chairs, try the Fern chairs, Oak Furniture Superstore
(Image credit: Katie Lee)
contacts
builder Chris Robson of Robson Property Services, 07789 221330
Structurally technician Christine Smith, 07446 422965
Electrics Fusion Electrical Contractors, 07703 825002, fusion-contractors.co.uk
installation Filed by Bell Plumbing Services, 07821 106679
"I think it's the little things that really make the difference. I still remember our plumber's face when I told him how much we spend on brass radiator valves. Since we were way over budget, I had to forego the brass-colored boiling faucet that I dearly wanted, and we had our existing oven professionally cleaned.
"It's nice when people compliment what we've achieved. Guests often refer to our "extension" and I remind them that we didn't really extend. This room is now the toughest work area in our home, whether it's doing laundry in the utility room, cooking in the kitchen, doing homework at the table, or lounging in front of the TV. It really brings everyone together. '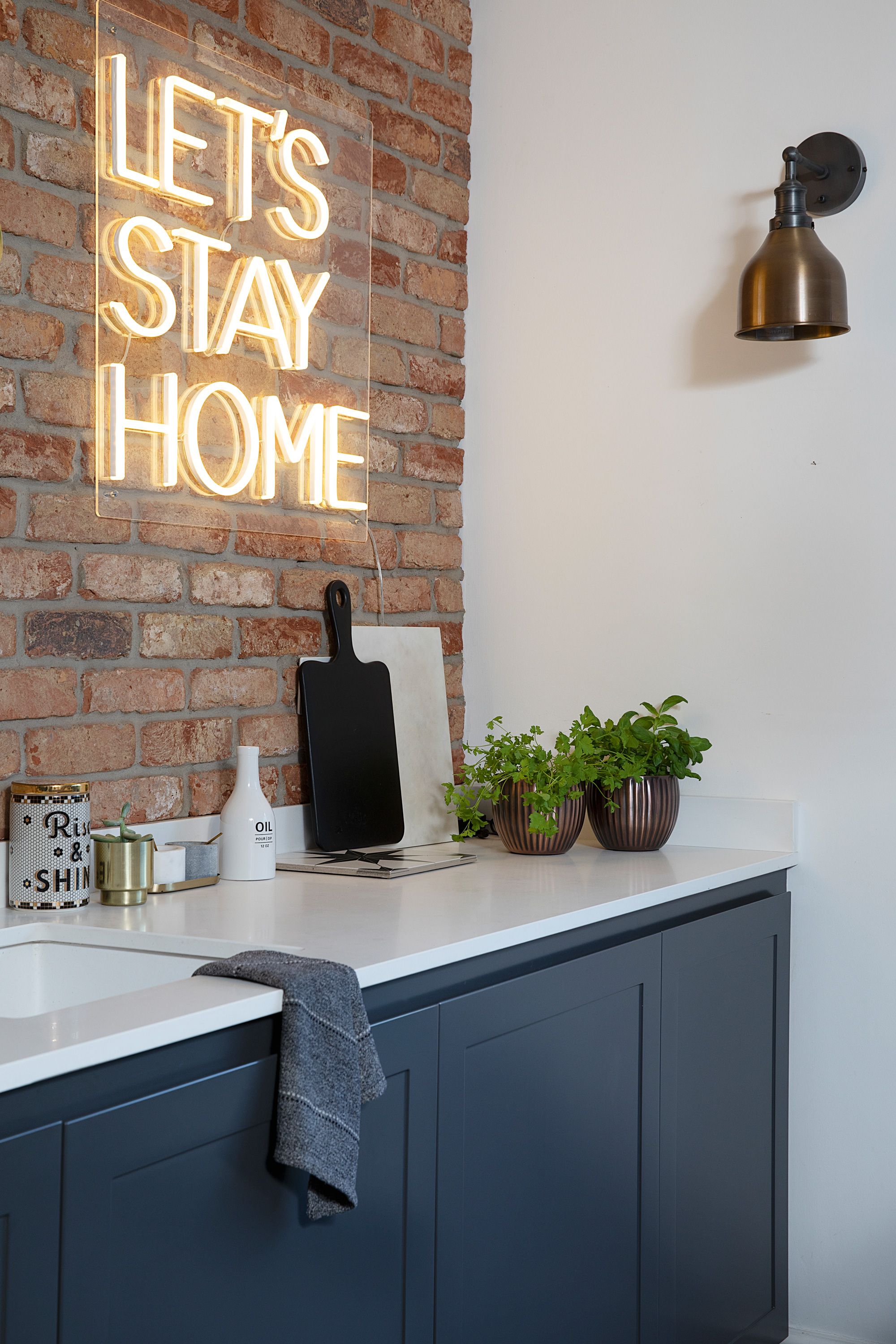 "The only thing we splattered on was our neon sign, which I absolutely love," says Helen. Neon Sign, Bag & Bones. Wall lamp, Industville. Rise & Shine canisters, anthropology
(Image credit: Katie Lee)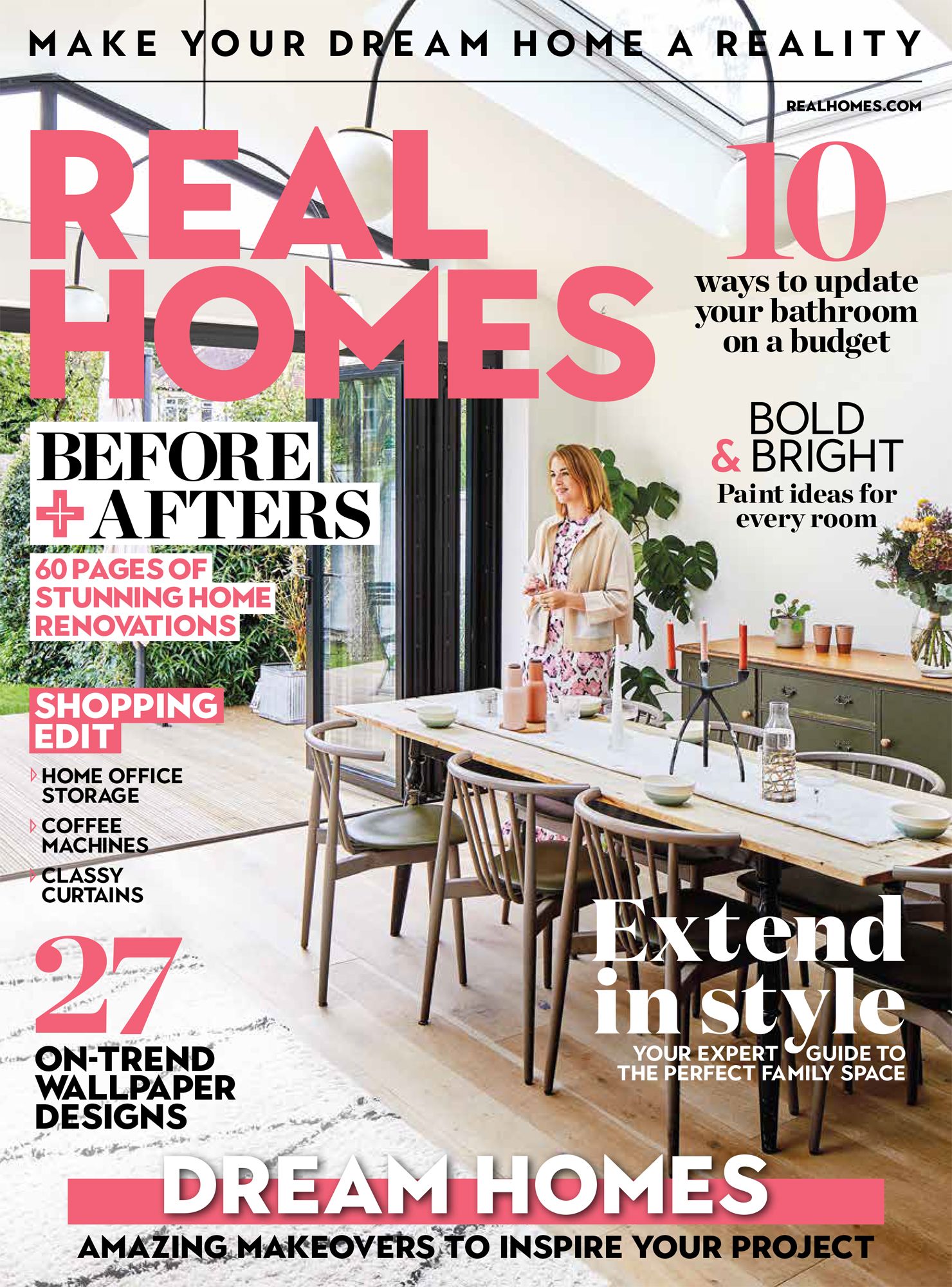 Subscribe to Real Homes Magazine
Would you like more great ideas for your home from the team of experts at Real Homes Magazine? Subscribe to Real Homes magazine and get great content right at your doorstep. From inspiring completed projects to the latest decorating trends and expert advice, every issue has everything you need to create your dream home. View deal