San Francisco Bay Area Trenchless Pipe Bursting Manufacturer, TRIC Tools, hosts CAL-STEAM Counter Day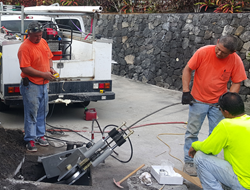 I look forward to getting to know the employees and customers of CAL-STEAM. I look forward to working with them in the future.
Alameda, CA (PRWEB)
November 05, 2015
This Wednesday, November 11th, pipe bursting manufacturer TRIC Tools is traveling to the heart of the San Francisco peninsula to host CAL-STEAM's Counter Day. CAL-STEAM was founded in 1935 and has been in operation for over seventy years. In the past 25 years, the company has grown from a single location in San Francisco to 12 locations across Northern California. Most recently, CAL-STEAM opened its twelfth location to meet customer needs in the Vacaville / Fairfield region. With over 300,000 square feet of combined covered storage capacity, CAL-STEAM has the largest inventory of plumbing and mechanical products in the Bay Area. TRIC and many of TRIC's customers have been using CAL-STEAM for years and enjoy the number of nearby facilities that offer polyethylene pipes for sewer and water pipe rehabilitation.
TRIC is happy to host the event and looks forward to meeting CAL-STEAM customers. The event will be held at 604 Price Avenue in Redwood City, CA. TRIC Sales Engineer Brennan Lunzer and Operations Manager Michael Lien will host the event on Monday, November 9th, from 9:00 am to 11:00 am in Redwood City. Brennan, who has been working with TRIC for 2 months, said: "I am very excited to get to know the people and customers of CAL-STEAM. I look forward to working with them in the future." This is TRIC's inaugural event with CAL-STEAM and TRIC looks forward to hosting additional events at the CAL-STEAM branch in the San Francisco Bay Area. TRIC will showcase its signature X30 burst pipe equipment at the event. TRIC will be able to discuss training, rentals, and financing options available to our customers and prospects. For more information on CAL-STEAM, contact Ed Duran at (650) 364-6880.
TRIC invented and patented the first Lateral Pipe Bursting System while obtaining national approval for HDPE pipes for its use. This opened the market for the trenchless exchange of house sewers in America.
For more information on trenchless pipe rupture equipment, or the trenchless industry in general, call 888-883-8742 or visit the TRIC website at http://www.trictrenchless.com to see how these questions can be answered for you . Get your trenchless sewer and water exchange service sideways on the right foot.
Share articles on social media or via email: