Once upon a time there was a young girl from the colonies who dreamed of having something in common with a princess: a pony, a lavish wedding, a handsome prince, maybe even a walk-in closet.
But giving birth to a baby on the bathroom floor? No, the fairy tales didn't make me long for the one experience I would actually share with a member of the British royal family. But here we are: Zara Tindall, the queen's granddaughter, horsewoman and now mother of three, has joined the exclusive club of women like me who won't keep their children in the sterile environment of a hospital or in the inflatable tub of dreams of Home births, but in The room where far more prosaic activities usually take place. Welcome!
Zara Tindall welcomed her third child, a boy, this week. Recognition:Getty
As her husband Mike Tindall explained on his podcast, that wasn't the plan: they just realized they wouldn't make it to the hospital on time. As an unplanned bathroom obstetrician, I imagine that when Zara inhales the sweetness of her newborn baby, it feels like me: "What the hell just happened ?!"
Maybe it's a touch of astonishment, or maybe she's appalled that little Lucas entered the world next to the toilet. You might be disappointed and even shocked. (One in three Australian women identifies their births as traumatic, according to the Australasian Birth Trauma Association). But my hope for you and every person giving birth is not to be too quick to label a birth as "bad" or "good": After two very different experiences I learned that birth often has levels of meaning and that it categorizes its complexity a bad one Service.
First, I would tell anyone who would listen how "good" the birth of my second child was. After an interventional and traumatic first birth in the hospital, where I felt forced and bullied, I planned a home birth with two midwives and a doula and my husband.
I would do it perfectly: I would have my son in a birthing pool in my candle-lit living room. Except that the birthing pool was never blown up. The affirmations on our mantelpiece were not read. The candles were not lit. Oh, and the midwife and doula didn't make it in time, leaving my husband and mom to catch the baby when I got up, clutched the side of our sink, and thrust it into the world.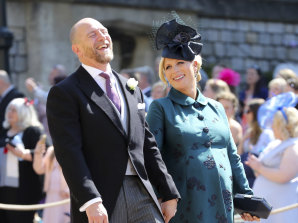 Mike and Zara Tindall arrive for Prince Harry and Meghan Markle's wedding ceremony on May 19, 2018 at St. George's Chapel in Windsor Castle.Recognition:AP
Nothing had turned out the way I imagined, but man, I was high in the sheer power of it. For months. There was no room for gray areas – I brushed aside disappointment in some aspects of how things were going and exuded pure bloody positivity. And it was overwhelmingly amazing. But it wasn't just that.
I was so keen that it would be positive (with a capital P), partly because I am a recovering control freak, but also because I was looking for some redemption for that "bad" birth with my first child, one When for months (hell, years) I could only see the negatives. But this birth wasn't just that either.